eureka: Used to express triumph upon finding or discovering something.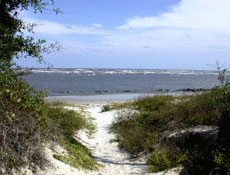 I felt like I had a "eureka" moment this AM. I've often joked that "God lives on the beach". It seems that anytime I get away and go down to the beach, or sit by a beautiful lake, etc … I can hear the voice of the Lord more clearly. Really, I guess the whole "getting away" has a lot to do with it.
This AM, instead of my routine of getting up and making coffee in my studio for "devotion time", I woke up at 6:00 AM with a little more "pep" and decided that I was going to go to the beach for my "quiet time". A quick stop at the Circle K for a tank of gas, a french vanilla cappuccino, and a donut (nice, healty breakfast), and I was on my way.
Inspired by a post I read yesterday in a buddy's blog ( see "coffee, windows, vehicular worship and the outdoors"), I turned up my worship music, rolled down the windows, and rolled back the moonroof in my Explorer, and was having a great time in the Lord.
Then, I began to read the verses in my daily Bible-reading plan, which included Psalm 29: 3, which reads:
The voice of the Lord is over the waters (NIV) … or … "The voice of the Lord echoes above the sea".(NLT)
WOW … now before anyone blasts me about the "context" there .. I just want to say that regardless, I though it was pretty cool. In a funny kind of way (especially in light of the joke I've always made about God living by the water) … it was great to see a Scripture referring to God's voice echoing over the sea.
I'm grateful that in reality, God's voice is near for us all … He promised that if we call out to Him, that He would answer us, and show us great and mighty things. But it sure is nice when His voice speaks so clearly in such a serene environment.
So, my encouragement for you today … go find some water, and listen to God. If you're not as fortunate as I to live on the coast, find yourself a lake, pond, river, etc … and sit under a shade tree on the banks … alone, and just listen for that wonderful voice of God. The change of scenerey will be good for ya!
For the Kingdom,
Fred
Support Fred's Music

If you are blessed by this music, I would be so honored if you would consider becoming a part of my inner-circle of patron supporters! For as little as $5/month you can be a supporter of my music and help me to continue providing peaceful piano instrumental music for the world.
More Ways To Listen
Worship Interludes Podcast
iTunes: Subscribe in iTunes
Google Play Music: Subscribe in Google Play Music for Android