"Fear tolerated is faith contaminated".
This was an astounding quote I heard last night. Our parent church on the mainland, Christian Renewal Ministries, hosted a special service with Jesse Duplantis. (see www.jdm.org)
I've always appreciated and enjoyed the ministry of Jesse Duplantis. The guy is so funny and is a "straight-talker". In addition, he's seems to keep a high level of integrity and accountability in his ministry. He's known as a very generous man and he "practices what he preaches".
I'm not sure if Jesse is the author of that quote, or if he heard or read it somewhere else. But it was truly astounding to me … "fear tolerated is faith contaminated". How true that is. I once did a teaching on discouragement and how that is the opposite of "courage". Well, with "fear" being opposite of "faith", I know that we have to overcome our discouragement. I've seen how the presence of fear will totally leave a person helpless, lifeless, and without hope. Fear seems to squash faith, hope, and love. Thankfully, we can CHOOSE to release our fear, resist, and turn from our fears, and move into faith .. and this is what God requires.
I forget the number – but it's a large one – the number of times that "fear not" is said in God's Word. Amazing. Yet, how often we succumb to this monster. I've always been intrigued by the "theory" some have regarding Job. Job offers a confession in Chapter 3:25: "What I always feared has happened to me. What I dreaded has come to be".
Now, I've heard the argument that because of this fear in Job's life, his faith wasn't to the place it should have been and that's why all the calamity was allowed in his life. It's always been hard for me to accept that doctrine because God clearly justifies Job in the beginning, saying that "he is the finest man in all the earth – a man of complete integrity … he fears God and will have nothing to do with evil". Without "faith", it's impossible to please God … sounds like Job pleased God.
Still, I cannot seem to shake that confession – fear was present in Job's life .. and apparently, it had been resident in him for a long time. Makes me want to check my fears in at the foot of the cross, and choose FAITH and LIFE.
In these days, we cannot allow our faith to waiver. We cannot allow things that would weaken our faith. Fear clearly does that. If you're struggling with fear, my prayer is that you can overcome it with the power of the Holy Spirit. God's Word is full of "fear not" commands. God would not command us to do something that we are powerless to do, although in our strength, we may be just that – powerless. That's why he gave us His Spirit.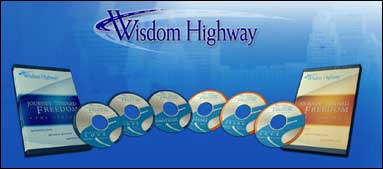 Well, I didn't start this post with any intentions to pitch anyone's product, that's for sure. But in typing this, I am reminded of a DVD-series that I've spent the last year or more investing my time and energies to .. it's called "The Journey Towards Freedom" series, and there is an awesome DVD on "Minimizing Fear" that we produced. I found it very helpful, as did my wife.
Don't let your faith be contaminated with fear. I hope and pray you'll be encouraged to take action in this area, and by the power of God's Spirit, we will overcome our fears and walk with pure, strong faith.
I'm open to your comments – whatcha think?
For the Kingdom,
Fred
Support Fred's Music

If you are blessed by this music, I would be so honored if you would consider becoming a part of my inner-circle of patron supporters! For as little as $5/month you can be a supporter of my music and help me to continue providing peaceful piano instrumental music for the world.
More Ways To Listen
Worship Interludes Podcast
iTunes: Subscribe in iTunes
Google Play Music: Subscribe in Google Play Music for Android