Hi Friends –
Well, today I just felt like rambling a bit. It's been a LONG WEEK. Perhaps, although doubtful, UGA will beat the Florida Gators this weekend, and that will just erase away all the grime from this week.
Nah – seriously, it's not been that bad. A couple of folks from our church died so I've been doing memorial services (about to go to one in a couple of hours). Our huge "Fall Festival" for our church is happening on Sunday, so Joy has been really busy with that. I got some disappointing news that one of HPP's most popular new songs, Praise The Lord, O My Soul did NOT make the final cut by the listening board for inclusion on Worship Leader Magazine's SongDISCovery Resource CD for Jan/Feb. I was sure this was gonna happen, so it was a bit discouraging, but I trust the Father in that.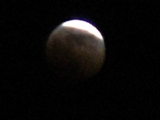 Did you see the lunar eclipse Wednesday evening? It was so cool – it just reminds me of HOW BIG GOD IS and HOW SMALL I AM. I put up some more pics that I took of the eclipse the other night.
I got a few emails and comments from my political post the other day. What really got me thinking about that stuff was a post by a friend of mine … he typically has some unique insights with what I'd call a "prophetic edge" and he's not afraid to speak the "truth", even when it hurts. I encouraged him to make a "blog", so check out his article called "I Knew Jesus Before He Was a Republican" at his blog.
Finally – my sweet, little Rebekah Grace McKinnon is a whopping 7-months old today. I can hardly believe it. She's trying to crawl, and is sitting up some. Although she'll probably shoot me 16 years from now, I couldn't resist putting up a classic "tub pic" in the photo gallery.
Well, off to prepare for a memorial service, a big fall festival this weekend, and a ministry trip Sunday PM (more on that soon).
For the Kingdom,
Fred
Support Fred's Music

If you are blessed by this music, I would be so honored if you would consider becoming a part of my inner-circle of patron supporters! For as little as $5/month you can be a supporter of my music and help me to continue providing peaceful piano instrumental music for the world.
More Ways To Listen
Worship Interludes Podcast
iTunes: Subscribe in iTunes
Google Play Music: Subscribe in Google Play Music for Android