Hey Ya'll –
Long time no blog … betcha this entry will shock you … in regards to what I mean by "fighing the good fight" …
We were honored to have a special guest with us this week at our church and in our schools. His name is Ebo Elder – and he's a professional boxer. (FightNews.Com | Google Search ).
Here's a funny pic of our Youth Pastor, James Sellers, "in the ring" w/ Ebo – landing a fatal blow (yeah right) …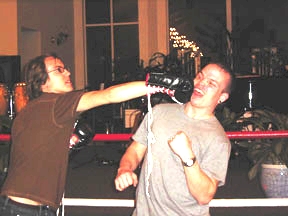 Ebo has quite a story – and he's going for the World Lightweight Championship Title at Ceasar's Palace in a couple of months. He is trained by his dad, and both love the Lord with quite a passion.
Ebo shared his testimony with the church and has been hitting the schools to speak to the youth this week here in Glynn County. Sunday evening he had a small gathering of our youth and adults and asked and answered lots of questions.
There is a stunning DVD (wish I had the movie to put online) of Ebo's last fight where he was beaten up pretty badly. In the 12th round, he won with a KO and immediately gave God the glory and went over and prayed for his opponent in the corner and witnessed to him. All of this live, on Showtime. One of the boxing magazines reviewed the fight and wrote "Jesus watches Showtime – who knew!".
One parent asked "Ebo, how do you reconcile the aggression of fighting with Christianity and the love and meekness of Christ". Ebo was quick to respond that he has to continually keep the context that "boxing" is a sport for him and a job. He said he's never "angry" at his opponents and doesn't box with anger. He also reminded us that he's quick to pray for his opponent, and they pray that none of the opponents will have serious or lasting injuries.
The bottom line was that he's taking the gospel into places where it usually doesn't go. Like in his bout in a big casino in California – he was the outsider and everyone in the casino wanted the "other guy" to win. As the fight progressed, they began to cheer for Ebo, and when it was finally over and Ebo testified for Christ, the casino crowd was cheering "Jesus, Jesus".
No matter how "outside the box" it may be (or should I say outside the ring) – I found it refreshing to see someone in the sport proclaiming Christ. Moreso, he lives it.
For the Kingdom,
Fred
Support Fred's Music

If you are blessed by this music, I would be so honored if you would consider becoming a part of my inner-circle of patron supporters! For as little as $5/month you can be a supporter of my music and help me to continue providing peaceful piano instrumental music for the world.
More Ways To Listen
Worship Interludes Podcast
iTunes: Subscribe in iTunes
Google Play Music: Subscribe in Google Play Music for Android