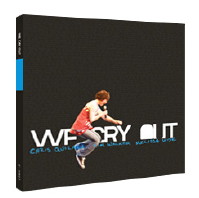 It's not my fault. The fact that I may possibly bring myself to severe hearing loss and vocal strain due to this song. It's impossible to sing it soft. Although it's possible to listen to it softly, it's just pathetically WRONG to do so. This is one of those meant to be cranked … to the max.
I blame Ben (El Ben), Shannon, and Jay Sellers … they are the ones who exposed me to this incredibly anointed song from Jesus Culture, a ministry out of Bethel Church in Redding, CA. You can buy the album "We Cry Out" in Bethel's store.
A few weeks ago I joined Saint Lewis to play aux. keys (ie. strings, B3, sound fx, etc) during a Night of Worship for Inside Out, the youth ministry of SSCC, and he did this song. It was the first time I'd ever heard it live. Truth is, Ben and Jay did their best to get me on this song … but the timing wasn't right. Ben mentioned it in passing a couple of times. Jay actually played the YouTube video one night at our house, but I was not really focusing or listening (what's new). But then Shannon pulls this song and I'm swept away on this "power chorus", "He Loves us …. Oh, How He Loves us … ".
The arrangement is powerful. They actually sing the Chorus after the first verse, but as far as I'm concerned, the shift into overdrive happens around 3:10 in the song where Kim Walker takes it up an octave and belts this Chorus over and over. Oh my. Oh my. That's all I can say.
A few days ago, I must've played this song 50 times … I was in my studio and just had it repeating over and over, lost in worship and praise.
Confession: I could totally do without the "sloppy wet kiss" line in the 2nd Verse. Although I can appreciate the creativity of the writer, the analogy doesn't work for me. No, I'm not opposed to that kind of reference, or I'd surely tear "Song of Solomon" out of my Bible … but it just doesn't work for me. I am eager to present this song to our congregation, but I know for certain that lyric will NOT fly. So, I'll either ditch the 2nd Verse, or change the lyrics a bit .. I hate to ditch the verse because "I don't have time to maintain these regrets when I think about the way He loves us .." is an AMAZING lyric!
Enough of my review … I got the audio for you to stream below (the Kim Walker version, which in my opinion, is much more powerful than the John Mark McMillan version [no offense, john!]) and then at the bottom, I'll embed the YouTube video. The audio on the YouTube cut is not very good at all, so you'll do yourself a favor to come back here and stream this song over and over.
Worship this passionate, this demonstrative … it always raises discussion. So, let's hear yours!
Audio:
[audio:http://www.fredmckinnon.com/media/how_he_loves_us.mp3]
YouTube:
[youtube]http://www.youtube.com/watch?v=xWnvBM40xxw[/youtube]
Support Fred's Music

If you are blessed by this music, I would be so honored if you would consider becoming a part of my inner-circle of patron supporters! For as little as $5/month you can be a supporter of my music and help me to continue providing peaceful piano instrumental music for the world.
More Ways To Listen
Worship Interludes Podcast
iTunes: Subscribe in iTunes
Google Play Music: Subscribe in Google Play Music for Android