Hey Ya'll,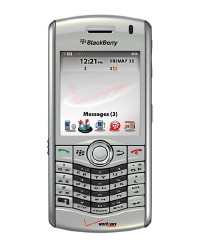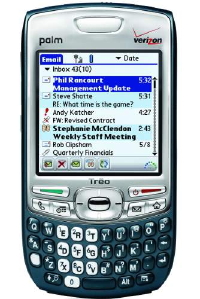 So, I've had a trusty Palm Treo 650 for a long time. I've never kept a cell phone this long. It's an incredible piece of equipment. Over the last 6 months, my trusty Treo 650 started wearing out. The screws keep falling out of the back. The antenna is loose. It won't hotsync to my computer anymore unless I push the cable in perfectly, hold my breath, stand on one leg, and hold my breath. This is only because the hotsync port is just worn out from use.
So, I started thinking it was time to upgrade. I constantly get these "new every two" promotions from Verizon because it's been way more than two years since I bought the Treo 650 – so I'm no longer "under contract". Of course, if Verizon would carry Apple's iPhone, I would've jumped immediately. Unfortunately, AT&T (Cingular) and their 5-year exclusive on the iPhone is a bad deal for an Apple lover like myself, as AT&T's cellular service around here is not so great.
I got a promotional mailing the other day offering about $250 in discounts if I'd renew my 2-year contract. In our area (and most other areas I've ever been), Verizon has the best network easily. So, since Verizon won't have the iPhone for a long time, I'm not afraid of a new 2-year agreement so I headed down to the Verizon store. These trips take me HOURS – I don't walk in and walk out – I ask a ka-zillion questions, work on bargains, work more on more discounts, and drive the sales people crazy.
That being said, I renewed my contract and walked away with a sleek, cool new Verizon Blackberry Pearl RIM 8130. The Pearl was sexy and I'd never had a Blackberry before. With all the discounts and rebates, it was free. Right away I knew it was going to be a tough transition – it was totally different than the Palm OS.
I tried it for about a week. I gave it my best. There were things about the Blackberry I loved … and several things I didn't like at all. About a day after I brought the Blackberry Pearl (RIM 8130 model) home, Jay and Brooke mentioned that Verizon had released a new Palm Treo 755p. What? I didn't see one at the store!?
So, I called Verizon a couple of days ago (after spending a few hours researching the new Treo 755 online) and the reason I didn't see it was because they hadn't even gotten them in yet, but they had just received a few … they weren't even on display yet, but were in the back.
It took me about 1 second to realize that I wanted the Treo 755 over the Blackberry Pearl. The problem was – the Pearl was free. The 755 was $250.00.
Well, all I can say is that with the right discount codes, favor from God and some work – I walked away with a brand new Palm Treo 755p for $50.00. (and of course, a new 2-year agreement with Verizon).
Granted, almost all of the reviews I read of the 755 were lackluster. Nothing great – everyone is upset that Palm hasn't updated their OS in years. I can understand that. But the features it offers and stability it has is fine for me – especially when my Treo 650 was on it's last legs for a heavy user like myself.
So here's the showdown – what I liked and didn't like:
Verizon BlackBerry Pearl RIM 8130 versus Verizon Palm Treo 755p
Bible Software: WINNER – Treo 755p
No MyBible or DailyReader from Laridian available on Blackberry: This was the biggest issue for me. I have used "MyBible" and "DailyReader" by Laridian for my daily bible reading schedule, etc., for years. Athough there are a few decent Bible packages for the BlackBerry, nothing remotely comparable to the MyBible/DailyReader combination. I missed it terribly.
SMS/Text Messaging: WINNER – Treo 755p
The PalmOS "threads" incoming/outgoing SMS/text messages to and from the same person into one place. The BlackBerry makes every incoming and outgoing message a new message. So, if you have no messages in your BlackBerry, and then SEND an outgoing SMS … you now have a message in your message folder – YOUR own outgoing one .. and unless you want to see your own sent message, you have to DELETE it. Get a reply – boom, that's a 2nd message. Send a reply – there's a 3rd message. On the Palm, they all show up in one line "Chat Thread with …" which you can click and see the entire conversation in one place. Palm OS also keeps your "Sent" messages in a "Sent" folder instead of making you see them in your main inbox.
Email: WINNER: Treo 755p … but could be Blackberry Pearl RIM 8130 …
Perhaps one of the things most loved about Blackberry is the way your email is "pushed" onto the device. I get tons of email, so this was overwhelming. Yes, I could turn it off … but it wasn't manageable for me. I'd much rather use the VersaMail (or I'm trying a premium 3rd party app called SnapperMail now) so I can check my email when/if I need to … and ONLY then.
Keyboard: WINNER – Treo 755p
The Treo has a full QWERTY keyboard. The BlackBerry has two letters on each key – so you have to learn how to hit a key twice to get the other letter, or rely on their "intelligent" typing which figures out which word you're typing and fills it in for you. Actually, I got rather use to this quickly, and it was the last of my worries. I did miss the full QWERTY keyboard though, and have it back now on the Palm 755p.
Looks and Feel: WINNER – Blackberry Pearl RIM 8310
Like I said, that Pearl was just sexy, period. The new Palm is cool, smaller, has no antenna, and is lighter than my old clunker Treo 650, but the Blackberry was light as a feather. It had a flashy chrome/steel look that was just "new".
Sync: WINNER – Tie
Using MarkSpace.Com's MissingSync software, both phones sync'd beautifully to my Mac.
Interface: WINNER – Treo 755p
It's only the winner for me because I prefer to push, touch, and press (with a stylus) … that scroll wheel on the Blackberry was just weird for me … it felt cheap and loose, and seemed dirty.
Media: TOSS UP
I can't really call a Winner here because Blackberry doesn't allow you to shoot video until you have a MicroSD card. I bought one on Ebay the other day, but it hasn't arrived yet. The camera on the Blackberry Pearl is clearly better than the camera on the Palm Treo 755. But I like that you can shoot video on the Palm and store it in the internal memory if you don't have a Micro SD card. So, it's a toss up – 2.0 MP camera on the Blackberry was better, but storage on the palm was better.
I could go on .. I doubt many of my regular blog readers made it this far .. haha, but who knows, if people search for comparisons via Google, they just might find this post.
When it's all said and done – it was just too hard for a guy who has been on the Palm OS for 4+ years to convert to Blackberry. Both work well, but I'm confident I've got the phone I wanted now. I'll still miss my old Treo 650 – it was (and still is considered by many) to be the best yet. They moved the "home" and "menu" button on the 755p, so I find myself accidentally dialing the voicemail all the time now, until I get used to the new keyboard layout on the Treo 755p.
So there's my unusual tech round up.
Now for the comments – what type of cell phone, PDA, etc., are you using these days? How do you use it in your daily life? Do you sync you calendar, contacts, ToDo, pics, videos, etc? Let us know!
Fred
Support Fred's Music

If you are blessed by this music, I would be so honored if you would consider becoming a part of my inner-circle of patron supporters! For as little as $5/month you can be a supporter of my music and help me to continue providing peaceful piano instrumental music for the world.
More Ways To Listen
Worship Interludes Podcast
iTunes: Subscribe in iTunes
Google Play Music: Subscribe in Google Play Music for Android