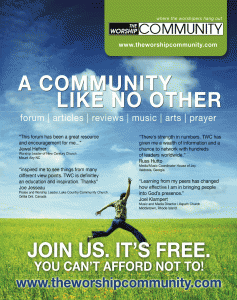 Ladies and Gentlemen, Boys and Girls, Friends and Family:
It's with great excitement and pleasure that I announce the launch of v2 of TheWorshipCommunity.Com. I've been working hard behind the scenes with the help of some incredible people (such as Chris, Travis, Joel, and others) to release the 2nd phase of what is becoming a launching pad of community for worshipers.
TheWorshipCommunity.Com (TWC) is a grass-roots community of worship leaders, artists, singers, musicians, and technicians from all over the world.
"Version 1″ of TWC launched with public forums for discussions about worship, technology, songs, and planning. "Version 2″ of TWC launched in July 2008 with the new "e-zine" format including articles, how-to, reviews, featured videos, and interactive discussions.
One of the things that sets TheWorshipCommunity.Com apart is the grass-roots nature of the content. Our articles are written by contributors all over the world who are "in the trenches" …. leading worship in small, medium, and large churches. We combine exclusive content with re-published articles from what we discover as "the best of" from worship and ministry-related blogs, discussion forums, and resources.
v2 of TWC is like an interactive blog … complete with it's own RSS feed that you can subscribe to, Twitter account that "tweets" new posts and forum threads, and open commenting on all the articles. Our launch has featured articles such as "Interactive Worship, Part 1" by John Voelz, "Worship Is A Risk" by Jeremy Killian, "Introduction to Loops" by Matt Huber (TheMonoBox), and "Google: A Free Solution for Small Budgets" by Russ Hutto, along with a review of Gateway Worship's new CD by Ben Harrell.
Would you go checkout the Featured Articles this week and leave your comments?
Would you blog about this and share it with others?
Would you consider subscribing to the RSS and/or Twitter feed to stay updated on new articles and discussions?
Finally – would you please add a link to TheWorshipCommunity.Com on your blogroll?
For the Kingdom,
Fred McKinnon
Support Fred's Music

If you are blessed by this music, I would be so honored if you would consider becoming a part of my inner-circle of patron supporters! For as little as $5/month you can be a supporter of my music and help me to continue providing peaceful piano instrumental music for the world.
More Ways To Listen
Worship Interludes Podcast
iTunes: Subscribe in iTunes
Google Play Music: Subscribe in Google Play Music for Android