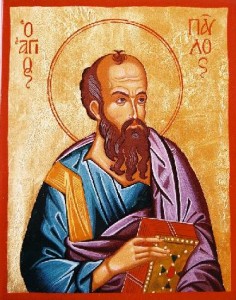 Hey Everyone,
Just wanted you to know that the Apostle Paul has some great insights on all the bickering that goes back and forth about worship styles.
OK, well not really … but blogger and TheWorshipCommunity.Com member, Brad Loser (and that's Loser with a long o, as in loh-ser!)  has written what he believes it would sound like in an ongoing, heated thread called "Musical Styles to One Style" over at TheWorshipCommunity.Com.  Check out that thread over at TWC.
"Beloved – why are you so concerned with meaningless quarrels over musical styles. Is God not infinite? What musical style is there that can, by itself, capture the profound and complete mystery of the Divine? Brothers, do not be mislead into the deceptive thinking that some would have you believe about musical styles. For they say, "This style is better and reaches more people", and, "I prefer this style because it's what I'm used to." No, you gather in the name of the Lord at the foot of the cross celebrating the gospel in which we ALL find forgiveness and redemption. Set aside your petty differences and let the world see the power of the gospel as it unifies and cleanses His bride."
Thanks, Brad.  We needed to hear that!
Support Fred's Music

If you are blessed by this music, I would be so honored if you would consider becoming a part of my inner-circle of patron supporters! For as little as $5/month you can be a supporter of my music and help me to continue providing peaceful piano instrumental music for the world.
More Ways To Listen
Worship Interludes Podcast
iTunes: Subscribe in iTunes
Google Play Music: Subscribe in Google Play Music for Android