Hey Everybody,
Dawg, I'm tired.  Very tired.  My mind is numb – mush, from all the information, sensory overload.  It's a good tired, though.  I'm sharing a hotel room with Joel Klampert (who is blogging much more than I this week) and both of us were so beat we ditched out of the last session tonight pretty much as soon as it was over.
Today was incredible – our first session this morning was with Founder of the re:create event, Randy Elrod.  Honestly, Randy's been a bit of a mystery to me – haven't really known who this guy was, what he really believed, or what re:create was all about.  I came here on the overwhelming recommendation of other blogger friends who have experienced it before … like Jim, Los, Chris, and Rich.    This guy (Randy) is amazing.  He's one of those guys who you feel knit to the moment you meet him.  I would have no trouble spilling the most intimate secrets of my life to this guy within 10 minutes of being around him.  Hearing his story was incredible today and he challenged me in many, many ways … from habits, to family, to ministry, and more.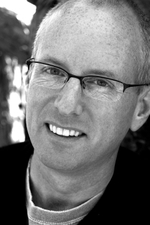 Ian Morgan Cron was fascinating today, and we had a memorable time in "communion", or "the eucharist".  The litury was amazing and left me hungry for more times like this.  I want to challenge you – GET OUT OF YOUR COMFORT ZONE … and go experience worship in different ways.  It is refreshing.
Ken Davis made us laugh so hard we all hurt.  He knows how to bring it – he makes you laugh until you cry, then you cry because you realize the impact of what he's saying to you.
Finally, we capped off the evening at yet another swanky, upscale restaurant with amazing food (I had prime rib) and incredible, up-close-and-personal performances from worship artists like Carl Cartee, Travis Cottrell, and American Idol singer/writer Chris Sligh.  I made the mistake of texting my brother that I was sitting at the table next to Chris, and for him to tell my two nephews – so, my phone started lighting up with texts for pictures!  Oh, how I wish I had an iPhone.  My crummy Treo just doesn't do the job in low light at all … this was the best I could do: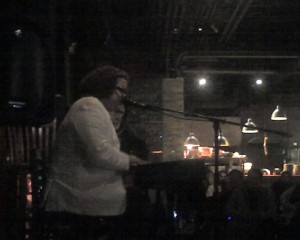 This guy can sing – wow.  Just co-wrote the big single that Rascal Flatts has on the radio now.  Congrats, Chris.  You chose to chase after God … and He's rewarding you.  I was gonna stay behind and be the starstruck freak and get a picture (it's for my nephews, you know, haha) but we were all tired so we split.
Was going to come back to the hotel and just crash – but both Joel and I are downloading some of this info out of our brains onto these blogs.
I've met so many folks this week – and most of them I've followed on Twitter and blogs … and you know what … you wonder "are these people really my friends" …. I can tell you … it's been amazing … it's as if we've known each other for our entire lives.
Hope you're able to follow our "live blogging feed" that I've got going on here:
http://www.fredmckinnon.com/2009/02/02/recreate-2009-nashville-tn-2/
It's a bit random and sporadic … but most of the "a-ha" moments, great quotes, 1-liners, and soundbytes are being "twittered" and "posted" there by lots of us here at the event.
My heart is stirred in so many directions – developing the culture of worship further at SSCC is burning in me.  So many ideas.  So many questions.
See you tomorrow (Thursday).  I'm missing my family, and yeah – I'm loving it here, but I'm ready to be in the arms of my wife and kids, too!
Support Fred's Music

If you are blessed by this music, I would be so honored if you would consider becoming a part of my inner-circle of patron supporters! For as little as $5/month you can be a supporter of my music and help me to continue providing peaceful piano instrumental music for the world.
More Ways To Listen
Worship Interludes Podcast
iTunes: Subscribe in iTunes
Google Play Music: Subscribe in Google Play Music for Android