Hello Everyone,
Welcome to the 34th consectuive week of "Sunday Setlists" – a blog carnival where we all share a recap of our worship services.  Thanks to all of you who have been participating.  A few questions I get every week:
1 – What if our services aren't on Sunday?  NO PROBLEM – it's called "Sunday Setlists" because that's when I post this … you can post recaps from your Sunday services, Saturday services, Mid-Week, or any special events.  If you are a touring worship band, share your setlists from your concerts!
2 – I don't have a blog.  NO PROBLEM – leave your recap as a comment below!
3 – I'm not the Worship Leader.  NO PROBLEM – we welcome (and encourage) recaps from the "congregation" point of view.
4 – I didn't lead this Sunday, I was off.  GREAT – give us your perspective from "off" the stage!
How to Participate
Checkout the full details here.  Simply:
1.  Blog about your worship service(s).  (Don't have a blog, see #2 above!)
2.  Link back to THIS POST in your blog.  This is very important.  Link to:
http://www.fredmckinnon.com/2009/03/15/sunday-setlists-34/
3.  Fill out the Mister Linky below and enter the URL to your blog post.  NOT your homepage!
4.  Leave a comment and visit the others.
5.  If you use Twitter, share your Setlist link with this tag:  #sundaysetlists
(see all Twitter posts with #sundaysetlists)
My Worship Confessional
So today was a different day for me as the Worship Pastor here at SSCC.  This was my view: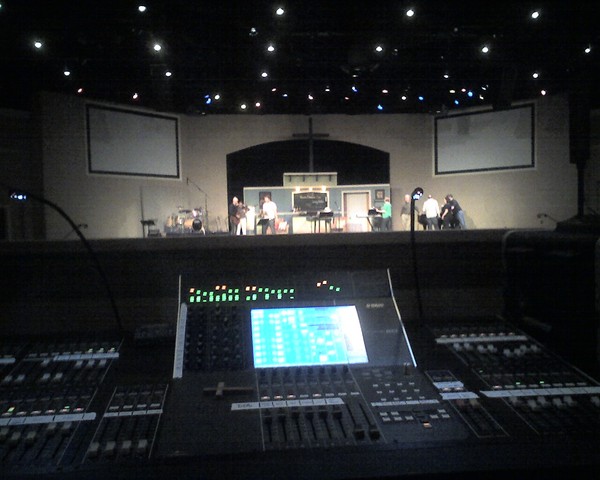 Yep – today, I scheduled myself OFF the platform, and ON the mixer.  I had the pleasure of mixing FOH today.  Thankfully, I had our Tech Director, Travis Paulding, next to me in case I blew something up.  He was producing today.
I think it's important as a Worship Pastor to develop leaders – and to give them their space.
* sing with me while I lead
* I'll sing and play with you while YOU lead
* You lead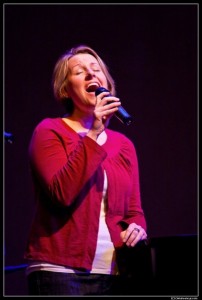 Kim Dixon led the worship today, and she did an exceptional job.  Kim is a natural and has the voice of an angel.  I worked with Kim on song selection, keys, etc., but let her do the bulk of the rehearsing and arranging.  Here's the setlist for today at SSCC with Kim leading:
Walk In:  Come, Now is the Time to Worship
Opening Song:  I Have Found (Kim Walker)
*Break*
Second Set:
Your Grace is Enough
How Great is our God
*Special*
Held (Natalie Grant)
*Video Testimony*  (will post video later this week)
*Sermon*
"The First Half was Great, The Second Half was the Pits" (Guest, Bill Barrow)
We are in Week 3 of 6 in our series on the Book of Job, "When it Hurts".  He did an awesome job.
Closer:
"Rescue" (Desperation Band)
Today's service was really strong.  The Book of Job always brings some tension into the room.  How many of us really "like" the God that allowed those things to happen to Job.  The special music "Held" went directly into a powerful video testimony of a lady in our church who'd lost her son.  We found out after the 9:00 service that some guests came today who'd just lost an infant to SIDS a few weeks ago.  Wow, what a week to show up for the first time.
At the conclusion you could see lots of people praying and responding to the Word of God.  Next week will provide evey more opportunity for people to respond as we tackle "wrestling with God".
I look forward to seeing what everybody else is doing today!  So go for it!
Particpants:
Enter your Name and the URL to your actual blog (c'mon folks, don't enter blog homepage URL's here!  They will be deleted.  Homepage links look like this:  yourname.blogspot.com or yourname.wordpress.com or www.yourdomain.com … we need a FULL URL to your blog post – if you are unsure about this, publish your blog, then click on the blog's title, and copy THAT URL)

Support Fred's Music

If you are blessed by this music, I would be so honored if you would consider becoming a part of my inner-circle of patron supporters! For as little as $5/month you can be a supporter of my music and help me to continue providing peaceful piano instrumental music for the world.
More Ways To Listen
Worship Interludes Podcast
iTunes: Subscribe in iTunes
Google Play Music: Subscribe in Google Play Music for Android