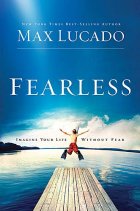 New York Times Best-Selling Author, Max Lucado, has just released another book through Thomas Nelson.  I was honored to receive an advance copy of this book and was intrigued immediately by the title and subtitle:
"Fearless" – Can You Imagine Your Life Without Fear?

(available in hardcover, kindle, and audio CD at Amazon.Com)

One of the commands we find throughout Scripture over and over is "fear not" or "take courage".  I've personally experienced fear, seen it in loved ones, and witnessed it hold us hostage.  I've also enjoyed the victory of overcoming fear in many areas of my own life and have seen this reward in my family.
The timing of Lucado's book couldn't be any better.  We are living in a world where each day's news brings us more reasons to be anxious and fearful.  Government takeover of business.  Wars and rumors of wars.  Swine flu, Asian flu, and various threats of disease.  Terrorist warnings.  Recession and skyrocketing unemployment.
The most beautiful part of this book is the tool that Max Lucado uses to illustarate the liberty from fear.  That tool is the Word of God.  In true pastoral form, Lucado takes us through pages of Scripture references and examples where we are encouraged … no … commanded … to trust God and not fear.
The main fears addressed in this book are the culprits that plague most of our lives.
Fear of insignificance
Fear that God is angry with us
Fear of not having our needs met
Fear for our children, in parenting
Fear in trying circumstances and storms
Fear of worse-case scenarios that grow in our imaginations
Fear of violence, wars, and our world
Fear of losing our wealth, possessions, materialism
Fear of death and dying
Fear of change and the unknown
Fear when we doubt in God, or His existence
Fear of things getting worse
Fear of God changing and breaking our perception of who He Is
I appreciate how the book expresses the reality of these fears.  We can acknowledge their existence without giving into them fully.  Throughout the book we learn about exposing, sharing, praying, and discussing our fears.  All of these are ways to overcome the tyranny of fear and anxiety.
Perhaps my favorite chapter in this book was also the most puzzling to me.  Lucado brought an incredible revelation to me about the full meaning in Jesus' prayer that "this cup would pass, if possible" (see Mark 14:35-36).  You'll have to read the book to see this revelation but suffice it to say I was overwhelmed with the magnitude of what happened on the cross.
At the same time, I struggle with the perception that, as Max Lucado claims, "Jesus had fear".  Granted, I know that we are called to "fear God" and in doing so, the fear is not sinful.  Personally, I see Jesus dreading the cross, agonizing over the pending punishment that awaited him, wrestling with what the future held for him … yes … but I'm not sure that it was "fear".  For Jesus to truly "fear", I would think that he'd sinned and momentarily lost faith and courage in God.  I'm no theologian, but it's hard for me to accept that Christ had "fear" (in the negative sense of being afraid).  This is reinforced by the commands throughout the Scripture that we, as Believers, are to "fear not".  If Jesus truly was living those moments in "fear", was He sinning?  These are puzzling questions that I wrestle with after reading the book.
The bottom line for me is that I loved the book.  It was an easy read – one of those books with short chapters that you can knock out easily in between constant kid-interruptions.  Not a person on this earth has mastered fear or anxiety and this book gives enough Scriptural ammo and encouragement to give peace to the person who is battling that huge dragon of fear.
Enjoy a preview of the book below:
Support Fred's Music

If you are blessed by this music, I would be so honored if you would consider becoming a part of my inner-circle of patron supporters! For as little as $5/month you can be a supporter of my music and help me to continue providing peaceful piano instrumental music for the world.
More Ways To Listen
Worship Interludes Podcast
iTunes: Subscribe in iTunes
Google Play Music: Subscribe in Google Play Music for Android