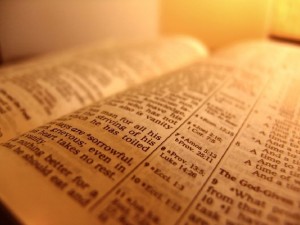 Last night Joy and I had a rare evening where all the kids were in bed before 8:30.  Both of us had plenty of work to do – but we decided to just have some time for the two of us.  We'd missed our morning prayer time together so we opted to watch a couple of Joyce Meyer episodes that Joy had saved on the DVR.
I don't typically watch many "christian programs" on TV – and though I've always enjoyed Joyce Meyer's teachings when I've heard them, I wouldn't call myself a regular viewer.  She had author Gary Smalley on as her guest.
To say that I was challenged and pushed in my spirit would be an understatement.  Here is a 65+ year old man – a guy whose been ministering longer than I've been alive … and he's sharing with the world how he's battled lustful thoughts all his life.  He accepted the fact that since he was a man, this was his unfortunate lot in life – his "thorn" in the flesh.  (He didn't use that phrase, but I've certainly used it).  After all, according to Dr. Dobson, 99% of men struggle with lust (women, too, by the way) and 1% lie about it.
Whether or not men (or women) struggle with lustful thoughts isn't the issue, though.  The issue is how he overcame this.  Not only Gary, but Joyce and many others, from thoughts of lust, worry, anxiety, anger, fear … the list goes on and on.
How do they overcome and walk in victory?
THE WORD of GOD.
For a solid hour, Gary and Joyce steamrolled a path of Scripture and teaching on how meditating on the Word of God brings victory in our minds.  Gary pleaded with God, "can you REALLY take this away from me"?  God's voice said "my Word is so  STRONG, it will do it".
Which brings me to the title of this blog post, "Who Are We Kidding"?  Here's the reality.  Many (most) of you who are reading this today … you haven't read God's Word.  You haven't meditated on it.  You haven't hidden it in your heart.
You are pastors …
You are worship leaders …
You are small group leaders …
You are parents ….
You are "Christian Record Label Execs" …
You are church staffers …
And we get up, pour our coffee, rush off to our jobs, sneak in some blogs, twitter, and facebook along the way, come home, love our wife and kids, watch some TV, and go to bed.  We get our "Word" for 30-40 minutes on Sunday.
That is woefully, painfully, and horribly WRONG.  WHO ARE WE KIDDING?
Even as I type this blog, I'm convicted because the truth is … I woke up at 5:15 AM today, went to regimen training, came home and ate breakfast, took my kid to school, grabbed some coffee, and came back home to share this "revelation" with everyone on my blog.  Do you notice what is missing?  That time in God's Word.  That quiet time where I read, study, meditate, and just listen to His voice.  I justify it saying, "when I get to the church, I'll close my door and get that time in" … and many times I do.  Many times, my day is thrown into the tyranny of the urgent as soon as I ascend the stairs to our office complex, though.
WHO ARE WE KIDDING?
I challenge you to get into God's Word.  Don't just check off a daily reader plan, either.  Meditate on it.  Memorize it.
What are you struggling with?  Lust?  Fear?  Anxiety?  Financial Attacks?  Loving people?  Unforgiveness?
There are plenty of Scriptures that you can find.  Memorize.  Meditate.  Get victory.
This is a hard word today.  I, my friends, am the chief of sinners.  But I want to sound this truth, and remind us of it again and again.  If you receive this from my heart … from God's heart … will you leave a comment below and let me know?  While you're there – don't forget to checkoff the box that says "subscribe to comments" so you can keep up with the ongoing discussion.
Support Fred's Music

If you are blessed by this music, I would be so honored if you would consider becoming a part of my inner-circle of patron supporters! For as little as $5/month you can be a supporter of my music and help me to continue providing peaceful piano instrumental music for the world.
More Ways To Listen
Worship Interludes Podcast
iTunes: Subscribe in iTunes
Google Play Music: Subscribe in Google Play Music for Android