Hey Everybody,
Here we are – the 66th consecutive week of "Sunday Setlists" – the blog carnival where we share our songs, creative elements, sermons, and recaps of our worship services.
For more details on the "Sunday Setlists" program, click here.
To receive a reminder email each week to post your setlist, click here.
Here's a recap on how to participate:
1.  Blog about your worship services this week.  (Don't have a blog, just leave it in the comments below)
2.  In your blog or worship service recap, please mention that you are participating in the "Sunday Setlists" blog carnival at FredMcKinnon.Com and link to today's post, which is:
http://www.fredmckinnon.com/2009/10/25/sunday-setlists-66/
3.  Leave your URL in the "Mister Linky" box below, making sure the URL goes directly to your "Sunday Setlists" blog post (not your blog's homepage)
4.  Leave a comment and visit the other links to see what is happening in worship services worldwide.
5.  Spread the word on FaceBook, Email, Your Blog, and Twitter.  (in Twitter, use #sundaysetlists hashtag)
My Worship Confessional for SSCC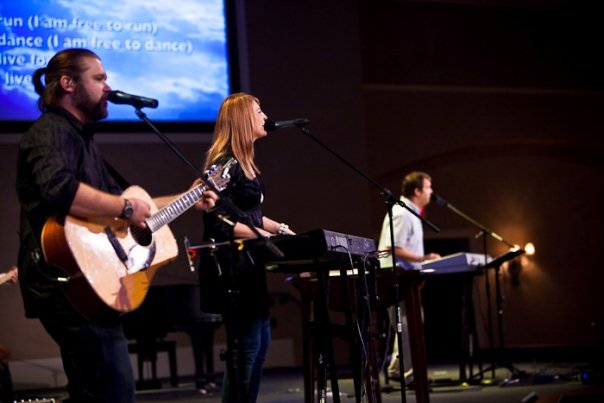 (from left-right:  Shannon Lewis, Jaime Jamgochian, Fred McKinnon, photo by Chris Moncus)
Today capped off a very long weekend of music with some of the artists from Centricity Music in Nashville, TN.  We rehearsed for several hours on Thursday evening in preparation for the annual beach concert and backed both Jaime Jamgochian and Daniel Kirkley.  (see "Way Radio Beach Concert Today" post)
We were blessed to have Jaime stay over and be our guest worship leader this morning at SSCC.  She did a "jam" up job (no pun intended) and I loved watching her flow, pressing our people deeper into their expressions of worship.  She was very gracious with us as our rag-tag band learned her material and how to follow a new leader.
Opening Song:
"For Your Glory" – by Jaime, with her click tracks and loops
Opening Set:
"I Am Free" (Ross Parsley version)
"Blessed Be Your Name" (Matt Redman version)
Second Worship Set:
"Mighty to Save" (Laura Story version)
"Hear My Worship" (Jaime's song)
"Here I Am to Worship"
Closing Song:
"Heal the Wound" (Jaime, solo on piano)
It was a great day and we had a blast hanging out with Jaime and her labelmates, Daniel Kirkley and Downhere (who cleaned up in the Canadian Christian Music awards a couple of nights ago, only to pack up and fly down here to play!)
Share Your Worship Service Recap:
OK, so whether you led the service or just attended – here's your chance to share your worship service recap!  If you use Twitter, be sure and include the #sundaysetlists hashtag and your tweets will appear in our "Twub".  See the most current info here:
Posting your "Sunday Setlists" worship recap on a blog or website? Post the link below. Be sure and visit all these links for some great ideas!

Support Fred's Music

If you are blessed by this music, I would be so honored if you would consider becoming a part of my inner-circle of patron supporters! For as little as $5/month you can be a supporter of my music and help me to continue providing peaceful piano instrumental music for the world.
More Ways To Listen
Worship Interludes Podcast
iTunes: Subscribe in iTunes
Google Play Music: Subscribe in Google Play Music for Android