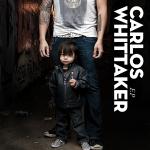 Hey Everybody,
Today is the day!  If you've been into blogging and social networking at all, Carlos Whittaker (aka "Los") is no stranger to you.  He's the blogger over at RagamuffinSoul.Com and we are teaming up with Carlos and Integrity Music to give you a 3-day blog tour of his brand new EP that launched TODAY.
There are 3 songs on the EP:
1.  "Jesus Saves" (hear it right here on FredMcKinnon.Com)
2.  "Rain It Down" (hear it tomorrow, Jan 27 over at Klampert.Com)
3.  "We Will Worship" (hear it Thursdays, Jan 28 over at ChrisFromCanada.Com)
Here's an exclusive preview of the first song, "Jesus Saves".
"Jesus Saves"
By:  Mia Fieldes, Jason Ingram and Carlos Whittaker
© 2010 Mia Fieldes/Shout! Publishing (adm in the U.S. and Canada by Integrity Worship Music)/ASCAP, Sony/ATV Timber Publishing/West Main Music/Windsor Hill Music/SESAC and Integrity Worship Music/ASCAP
Lyrics:
Your wounded hands have broken my chains
Your holiness has carried the weight
And I am the sum of failing and of grace
You overcame
Jesus saves my Jesus saves
Jesus saves my Jesus saves
Your innocence has covered my shame
Your love has spoken me by name
And I have victory over the grave over the grave
You overcame
Jesus saves my Jesus saves
Jesus saves my Jesus saves
I was dying You came for me
Now I'm living for my savior
Hope is rising up within me
You're my Savior and Lord
Want a FREE CHORD CHART so you can start singing this anthem in your church right away?  Download it!
Want to buy this song and the entire EP?  Get it on iTunes today!


Support Fred's Music

If you are blessed by this music, I would be so honored if you would consider becoming a part of my inner-circle of patron supporters! For as little as $5/month you can be a supporter of my music and help me to continue providing peaceful piano instrumental music for the world.
More Ways To Listen
Worship Interludes Podcast
iTunes: Subscribe in iTunes
Google Play Music: Subscribe in Google Play Music for Android