I've got a personal rule:
If you're going to blast a company in public, you'd better be prepared to praise them.
A few weeks ago my internet speed at home took a drastic nosedive.  My upload speed was non-existent and it was taking forever for sites to load.  Dreading the automated phone tree and "Tier 1" techs who, with all due respect, make me do everything I've already done … I made the call.  As expected, I pushed all the buttons on the phone tree only to hold for 20 minutes and finally get redirected back to the "main menu" for no reason.
Long story short … the Tech says that my modem is so old, it's not supported anymore … it's "end of life".  His suggestion?  Go down to the local Comcast office and swap it out for a new modem.
So I get up bright and early so I can be in Brunswick (about a 30-minute drive, one way) when the local Comcast office opens.  And what do I discover?
"Oh, I'm sorry … we don't have any modems here, they are all gone".
"We will call you if we get any in".  (still haven't received that phone call)
"And we don't have a number you can call locally to make sure we have them in stock before driving over here".
As you can imagine, I'm pretty ticked off.  So I vent … publicly … via Twitter.
My tweet went something like this:
"Comcast, thanks for wasting the first hour of my day" #comcastfail
Let's face it, folks.  Sometimes, things just go wrong.  I own a company, and I get the blunt of both positive and negative feedback EVERY SINGLE DAY on our Ebay, Amazon, and Buy.Com accounts.  Negative feedback hurts … really.  But … even if we screw up … even if we fall short … what really counts is this:
HOW DO WE RESPOND?  HOW TO WE RESOLVE?
It's no secret that companies have folks whose job it is to search Twitter and Facebook for references to their names and trademarks. So what happened next is pretty fascinating.
About an hour after my tweet I get this @reply on Comcast:
from @comcastMelissa:  that's terrible, how can we help?
In a bit of a sarcastic jab, I reply:
"I seriously doubt you can help, unless you want to OVERNIGHT a BRAND NEW MODEM to me since our local office has none".
About 3o minutes later, I get this:
from @ComcastBill:  hey, please follow me so I can get your account info and dm you.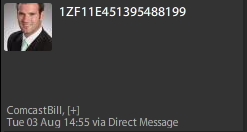 I followed Bill's instructions, and within an hour, I have a UPS tracking number for a BRAND NEW MODEM, being sent NEXT DAY AIR to my home.
Comcast may have been lacking in the local office and their phone support was a bit frustrating … but as for the team of Comcast folks who are utilizing social networking platforms to monitor their brand and provide customer service, all I can say is …. HOME RUN.
That's how you keep a customer for life, Comcast.  Great job.  Thanks a million.
By the way – my internet is FLYING fast!
Support Fred's Music

If you are blessed by this music, I would be so honored if you would consider becoming a part of my inner-circle of patron supporters! For as little as $5/month you can be a supporter of my music and help me to continue providing peaceful piano instrumental music for the world.
More Ways To Listen
Worship Interludes Podcast
iTunes: Subscribe in iTunes
Google Play Music: Subscribe in Google Play Music for Android