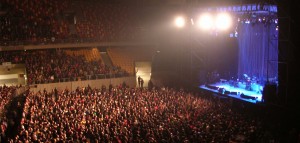 One of the primary responsibilities in my job description as the Worship Director at SSCC is this:
"to create a culture of worship".
I've been in this job for 3-1/2 years.  I believe that I've witnessed a growth in the overall dynamic of worship in our church.  However, as I joined my Pastor last week to continue discussing this we both realized that we can't really define what that culture is supposed to look like.
Our initial response would typically want to jump right into the discussion about how "worship" isn't just the songs we sing, but a way of life.  I agree.
However, for the purpose of this question, I believe it refers to how people are involved in praise and worship at SCCC – in our corporate settings and in our private settings.
So, what is a "culture of worship", and how do you define it and measure it?
Is it measured by how many people raise their hands on Sunday morning during a song?
Is it measured by how many people are singing?
Is it measured by whether or not people are clapping?
Clearly, I can't see what God is doing in the hearts of people … at least, not always …
I'd like to sit on this one for a day or so … and I'd like to ask EVERYONE to leave their comments (I'm using this IntenseDebate comment system again, trying it out, so hope it works!).  I'd love for you to "Tweet" or "ReTweet" this entry.
You are invited to the discussion.  Go for it.
(image from Collide Magazine)
Support Fred's Music

If you are blessed by this music, I would be so honored if you would consider becoming a part of my inner-circle of patron supporters! For as little as $5/month you can be a supporter of my music and help me to continue providing peaceful piano instrumental music for the world.
More Ways To Listen
Worship Interludes Podcast
iTunes: Subscribe in iTunes
Google Play Music: Subscribe in Google Play Music for Android