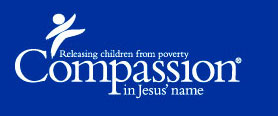 Dear Friends,
As you may know, I am a passionate advocate for Compassion International.  Compassion exists to release children from poverty in Jesus' Name.  I've experienced the ministry of Compassion first-hand and we are also child-sponsors for Compassion.
I just received this URGENT request from our Advocate Relations Department.  Please see below.  EVERY PERSON WHO READS THIS BLOG (tweet, and Facebook note) can do this.  If you cannot afford a card, create one out of regular paper.
There are THOUSANDS of children who do not yet have a sponsor.  We'd love to see EVERY CHILD receive a Christmas card.
DEADLINE:  November 23 (only 5 postal days away – you should mail this within the next 2 days!).
We can collect letters and Christmas cards for children in our projects that have never received a letter!  Send them to:
Compassion International
Attn Candy Entingh
12290 Voyager Pkwy
Colorado Springs, CO  80921
BUT…they have to arrive at GMC by November 23rd, in order for them to get into the system and arrive for each child to receive them BY Christmas.
There are over 1,400 children in HAITI alone who don't yet have a sponsor! Just write out a card or letter leaving out any attempt to address a particular child by name and let them know you are praying for them and thinking of them this Christmas.  Share your faith, share your words of love and encouragement – but be sure to share something!  It will take just a couple minutes to write out a quick card.
Finally, I hope that if you have not sponsored a child you would consider doing so this Christmas.  The cost is $38/month and it will change the life of a child forever.  I know all the skeptical questions that you have – I had them too.  That's why I spent time in the field with Compassion and learned about them first hand.  It's an amazing ministry.
1.  Please send a Christmas Card to the address above within the next 2 business days.
2.  Please visit the Compassion Site and consider sponsoring a child.  It will change their life … and yours too.
3.  Please "Tweet" or "ReTweet" this post to everyone on your list.  "Like" this post and share it on FaceBook.  Spread the word.  Let's make a difference together.
For the Kingdom,
Fred
Support Fred's Music

If you are blessed by this music, I would be so honored if you would consider becoming a part of my inner-circle of patron supporters! For as little as $5/month you can be a supporter of my music and help me to continue providing peaceful piano instrumental music for the world.
More Ways To Listen
Worship Interludes Podcast
iTunes: Subscribe in iTunes
Google Play Music: Subscribe in Google Play Music for Android