There are some items in my digital toolbox that are qualified as "must haves".  You know – the kind where you get a new hard drive or computer and after booting it up, this is one of the first things you install?
"Evernote" is one of those tools for me.  I use it to take notes during sermons, keep up with tasks, ideas, Bible Study thoughts, and blog ideas.  That's fairly typical usage but I've surprised quite a few people when I tell them that Evernote is one of my primary tools in songwriting.
I can't begin to tell you how many times I've had a song idea pass through my mind.  Usually, those ideas can leave my mind about as quickly as they came in!  That's where Evernote comes in handy.
Because Evernote is installed on ALL of my Mac computers and on my Android-based Motorola DroidX phone, I have a digital "notebook" at my disposal all the time.  Since the notes sync automatically, my ideas are always available.
Case in point:
The other day I was sitting in one of my favorite "solitude spots".  (aka "Village Creek Landing" on St. Simons Island, GA).  I was reading in Titus and was inspired by the text.  I immediately had a catchy "hook" in my mind … "Glorious Grace Appear".
Keep in mind, I'm sitting in my 1996 Ford Explorer with the windows down and moon roof open – soaking in the morning sun – studying the Word, praying, and meditating on what I'm reading.  I'm not in the studio.  I don't have a moleskin handy (OK, I don't OWN a moleskin) and I don't think there is a pen in my truck at all.
I pick up my phone, launch the Evernote App, open my "Song Ideas" folder and tap "new note".  Jot down the Scripture reference, a few phrases, and save the note.
Then, the most powerful feature yet – the voice memo!  I've lost more hooks than I've kept, so I edit the note, click the voice memo button, and start singing away.
Now I have my idea captured so that I can revisit it while in the studio or at the piano.
Here's a peek at my "Songs" notebook in Evernote: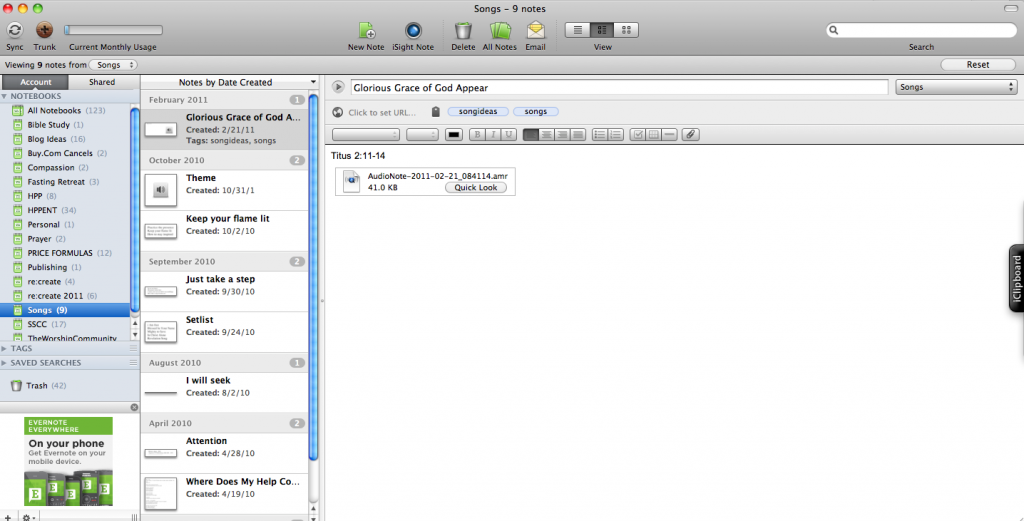 So, that's my songwriting usage of Evernote.  You've seen a glimpse into my vault … and now, I've got to discipline myself to take these ideas to the next level – actually writing the song!
UPDATE:
The night before this blog entry was scheduled to be published, I had an interesting twitter exchange with one of my favorite bloggers, Michael Hyatt.  He'd just had a blog post about Evernote featured.  I replied and told him about my pending article and others chimed in about their Evernote usage.  So check out their articles as well!
Michael Hyatt:  "A Better Filing System for Public Speakers and Writers"
David Santistevan:  "Use Evernote To Help You Write Songs"
Support Fred's Music

If you are blessed by this music, I would be so honored if you would consider becoming a part of my inner-circle of patron supporters! For as little as $5/month you can be a supporter of my music and help me to continue providing peaceful piano instrumental music for the world.
More Ways To Listen
Worship Interludes Podcast
iTunes: Subscribe in iTunes
Google Play Music: Subscribe in Google Play Music for Android