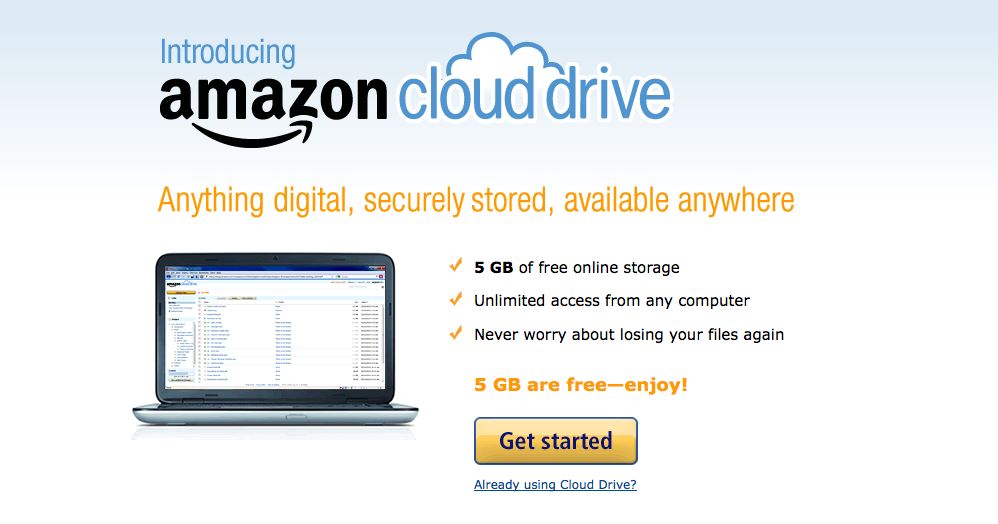 Anyone who follows my thoughts in this big cyberspace is quite familiar with my affection for Apple.  I love Apple products and have been a faithful Apple user since college.  (for those who are counting, that would be nearly 20 years)!  Despite my passion for Apple, I blogged a while back about "Why I'm Not Getting a Verizon iPhone" and "How This Apple Addict Fell in Love with the DroidX".  Google stepped in and started changing the way my life was surrounded by Apple products.
With the recent announcement of the "Amazon Cloud Drive" and the "Amazon Cloud Player" I can't help but wonder if Amazon is about to join Google in assaulting the massive market share of Apple's dominance in the digital media world.
One of the most frustrating issues in dealing with my iTunes libraries across multiple computers is the lack of sync.  Sure, there are products out there that supposedly help you sync your iTunes libraries together across multiple computers.  I've tried some of this software and didn't have a lot of success.
I have 2 primary iTunes accounts.  One account is for personal purchases and the other is for purchases I make through my Church account.  These get all mixed up and in my eagerness to get a new song over the weekend on my home computer I later find that it's not on my church laptop.  Now, with the addition of a new studio computer at SSCC I have a 3rd location where I want to hear my music.  Having iTunes libraries from two separate accounts on 3-4 different computers is a real hassle … not to mention the issues of iPod syncing.
With thew new Amazon Cloud Drive I can begin uploading all of my music to the "cloud".  (Travis, those quotes were JUST for you).  This gives me access to my music via web and the Android-based Amazon Player on my DroidX.
Granted, you only get 5 GB of free online storage but that's quite a bit of storage and the price to increase storage is minimal.  To make things even better, if you purchase your music from Amazon.Com instead of via iTunes (the pricing is typically the same with less sync/copy restrictions) the music can be stored in your Amazon Cloud without using your storage space.
Want that new album?
Buy it on iTunes and it's restricted to a few places.  Even to get the music on a different computer at all requires physically copying the files.
Buy it on Amazon and it's available on your computer, on your phone, and in the cloud – accessible from any computer, any time, with web access.
I could be wrong but I think this will pose a serious challenge to the way Apple manages our media purchases and storage.  In the end, it's all about access and convenience.  By the looks of this new Amazon Cloud, they have a promising product.
For me, I'm uploading music RIGHT NOW to the cloud.
What about you?
Support Fred's Music

If you are blessed by this music, I would be so honored if you would consider becoming a part of my inner-circle of patron supporters! For as little as $5/month you can be a supporter of my music and help me to continue providing peaceful piano instrumental music for the world.
More Ways To Listen
Worship Interludes Podcast
iTunes: Subscribe in iTunes
Google Play Music: Subscribe in Google Play Music for Android