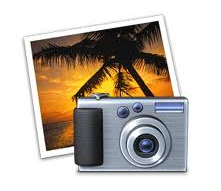 So you've just come home from vacation (like us) and you're ready to import all of your photos and videos from your Motorola Droid or DroidX into your Mac's iPhoto application.  Unlike plugging in an iPhone, it's not necessarily that simple.
Prior to December 2010 it seemed you could just plug in the phone and it would do everything you'd expect.  It seems like some operating system update changed this in late 2010, based on discussions in the Android forums.
In case you haven't figured it out – here's the short and simple way to make this happen.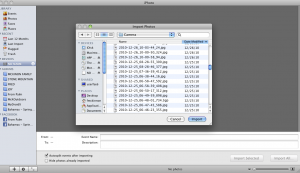 (click the image for a larger view)
Make sure your DroidX USB settings are set to "USB Mass Storage".
Plugin your DroidX to your Mac via the USB cable.  (this SHOULD mount the device on your desktop and may actually launch iPhoto automatically.  (My phone mounts as "NO NAME".)
If iPhoto did not launch automatically, launch it to open the application.
In iPhoto, go to "Import to Library" which brings up a file selection box.
Your photos are stored on your data card.  Navigate to the following directory on your phone:
/dcim/Camera/
You should see your timestamped photos and videos in this folder.  Simply click the "Import" button to begin.
That should do it!  Try it and let me know if it worked for you.
Support Fred's Music

If you are blessed by this music, I would be so honored if you would consider becoming a part of my inner-circle of patron supporters! For as little as $5/month you can be a supporter of my music and help me to continue providing peaceful piano instrumental music for the world.
More Ways To Listen
Worship Interludes Podcast
iTunes: Subscribe in iTunes
Google Play Music: Subscribe in Google Play Music for Android