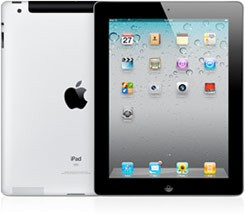 Well, I did it.  I'm a gadget addict, I confess.  I've successfully starved off the craving to own an iPad since those sleek, sexy tablets came out.  It lasted for quite a while.  But now, I've caved.
Yes, I ordered an Apple iPad 2 yesterday.  They seem to be out of stock everywhere so I ordered from Apple.Com and it's supposed to ship in 1-2 weeks.
My purchase was not without a good bit of prayer and research.  Prayer?  Well that's a nice chunk of change for a gadget that is clearly more of a "want" than a "need".  Am I being a poor steward of my finances in making the purchase?  Couldn't those funds be better used by those in need?  Research?  Well, I've read numerous reviews both praising the iPad and bashing it.  I have trusted friends who gave theirs away and others who say if they had to do it all over again, they'd still make the purchase.
Here are 6 reasons I took the plunge:
1.  Portability:  I carry my 15″ MacBook Pro around everywhere, and I don't carry it around without having my backpack.  There are so many times when I prefer a digital workspace but don't want to lug the bag and laptop around.  I think of how portable and easy it would be to carry this (and only this) into my meetings for notes, sketches, ideas.
2.  Digital Archives:  I try to be as paperless as possible – if we're handed a few pages of notes or outlines at our church staff meeting, I followup immediately afterwards with a request for the e-document and I throw away the papers.  Using a cloud-service like Dropbox enables me to keep my documents with me and easily accessible.  I am planning on creating an extensive database of lyric/chord charts that I can access on demand when leading more spontaneous, free-flowing worship times.
3.  Worship Production:  Two of the applications that we use daily in creating, planning, and executing corporate worship services are PlanningCenterOnline and ProPresenter.  The iPad allows me to interact with either of these (as a music stand, a lyrics display, etc) from the stage with a minimal footprint.  If only the iPad ran Ableton Live, I could keep my laptop off stage completely.  I also understand that there is an app that may allow me to connect remotely to our Yamaha M7CL mixing console and adjust my monitor mix.  Travis would love nothing more than never having to tweak my picky monitor preferences again.
4.  Product Sourcing & Sales Data:  as I begin to get more involved in product sourcing for my e-biz, I find myself needing online access to verify a product's sales rank in the marketplace, verify competitive pricing, etc.  With plans to visit some trade shows and expos where I'd need to make fairly quick decisions on bulk purchasing, this information is critical to me.  As I've been making arrangements to visit one particular event, I could only imagine negotiating with a manufacturer or vendor and having to say "could you wait for me to find an office somewhere around here where I can pull out my laptop and do some research".  What I can imagine is having an iPad within reach where I can do quick research via the Wifi and web browser on the spot without having to setup a mobile office space.
In addition, we've recently migrated all of our e-biz sales data to FileMaker Pro.  Although we do have web access to our FileMaker databases, some of the functionality of the software is not available unless you connect with the actual software of their iPad app, FileMaker Go.  After previewing the FileMaker Go app on the in-store iPad at Verizon the other day, I was hooked.  FileMaker has a great promotion running where purchasing their iPad app gives you a $150 discount on their desktop app, which I am required to purchase.  This sweetened the deal for me.
5.  Entertainment:  well, c'mon let's be honest.  Having an iPad will just be fun.  I look forward to de-stressing by playing some pinball, Angry Birds on bigger screen, or watching a movie in the car.  With 4 kids, all who are constantly asking my wife and I if they can "play my phone" … I'm sure it will become a family media device.  I'm OK with that.  Granted, that usage needs to be balanced, but I'm up for the challenge.
6.  Personal Study and Reading:  From everything I have read, the Kindle is simply a better device for reading.  Period.   I'm a gadget guy, absolutely, but I'm not planning on buying a gadget just for reading.  Enter the Kindle App and my ability to read books via the iPad.  I look forward to interacting with YouVersion.Com as well in my daily Bible Study.
I'm sure there are pros and cons to owning an iPad.  I would be the first to say it's a luxury item.  Perhaps I'll update you in a few months on how it panned out.
How about you?  Do you own an iPad or tablet?  How do you use it?
Support Fred's Music

If you are blessed by this music, I would be so honored if you would consider becoming a part of my inner-circle of patron supporters! For as little as $5/month you can be a supporter of my music and help me to continue providing peaceful piano instrumental music for the world.
More Ways To Listen
Worship Interludes Podcast
iTunes: Subscribe in iTunes
Google Play Music: Subscribe in Google Play Music for Android