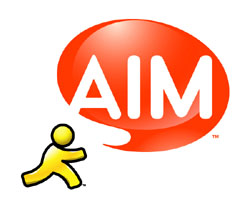 Hey Gang,
As a guy who is admittedly online way too much, I'm connected to my friends, co-workers, family, and business contacts through a number of social media tools.
Although I frequently use Facebook, Twitter, and Skype, I still have a great contact list on the old instant messaging network from AOL, known as "AIM".   My first internet account was with AOL and I've had the screenname "HPProd" for as long as I can remember.
Over the past 24 hours there has been a huge issue with AIM users attempting to connect through IM clients.  I use Adium or iChat on the Mac for example.  When attempting to connect to my AIM account I keep getting the following error:
"AOL does not allow your screen name to authenticate here"
Yikes.  What a mess.  I thought it had something to do with the most recent Adium update so I dove into Google to find my answers.  Thankfully I hit this post at Gizmodo and they helped save the day.
If you're an AIM user who seems to have been locked out of your account, follow these quick steps:
1.  Logon to AIM.Com with your current ID and password.
2.  Go through the verification process.  (I had to add my name, verify my email address, and create a security question)
3.  Change your password to a NEW password.
I'd think you would not have to do Step #3 but I was still unable to connect after doing steps 1-2 only.  After changing my password and updating this in my Adium settings I was back in business.
Oh, I forgot the most important step, #4:  Add "HPProd" and say "hello!".
Good luck!
Fred
Support Fred's Music

If you are blessed by this music, I would be so honored if you would consider becoming a part of my inner-circle of patron supporters! For as little as $5/month you can be a supporter of my music and help me to continue providing peaceful piano instrumental music for the world.
More Ways To Listen
Worship Interludes Podcast
iTunes: Subscribe in iTunes
Google Play Music: Subscribe in Google Play Music for Android