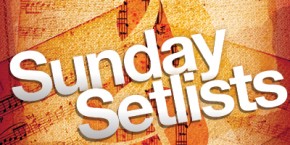 This Sunday was a special day for us at St. Simons Community Church.  As we're closing out the Summer we had a "youth sunday".  Blake and Russ, our student ministry worship leaders, led a wonderful group of your youth musicians and singers in a fantastic set.
It wasn't just the music that was youthful – the message was given by our two youth pastors, Beau and Justin.  We had students share testimonies and inspire us with what God is doing in their lives.  It's so exciting to see what God is doing in the hearts of our young people.
As the Worship Pastor I reminded our guys that even though it's "Youth Sunday" we still had a diverse congregation that we were responsible to lead.  This meant not being too over-the-top and staying true to our philosophy of multi-generational worship.  I wanted our kids to be themselves but also wanted our church members to connect as well.
The leaders did a wonderful job crafting a setlist that would include some tunes from their world and familiar tunes that we sing on Sundays.  Here's a run down of the morning:
Walk In:  "My Savior Lives"
Opening Song:  "10,000 Reasons"
Second Set:
"Like a Lion"
"Revelation Song"
Closing Song:  "Set a Fire"
As we left today it was obvious to all that we saw the Church in action — young and old.  To see a generation passionate about Christ stepping up and leading was exhilerating.  I can't begin to express how proud I am of that team!
I'm posting this recap as a part of the weekly Sunday Setlists event hosted by TheWorshipCommunity.Com.  Check it out for other setlists and ideas.
How did your Sunday go?  Tell us about it by leaving a comment below:
Support Fred's Music

If you are blessed by this music, I would be so honored if you would consider becoming a part of my inner-circle of patron supporters! For as little as $5/month you can be a supporter of my music and help me to continue providing peaceful piano instrumental music for the world.
More Ways To Listen
Worship Interludes Podcast
iTunes: Subscribe in iTunes
Google Play Music: Subscribe in Google Play Music for Android