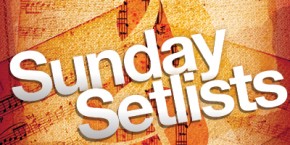 Hello Gang!
Today I had the privilege of leading the worship team at SSCC.   As usual, this is my weekly recap of the worship service as a part of the "Sunday Setlists" event hosted by TheWorshipCommunity.Com.
Our setlist this week was blend of newer and older, which is typical for our style of leadership at SSCC.  We opened with a pre-service arrangement of "Unclouded Day" in (E).  This is a Gaither-style, foot-stomping, southern gospel hymn and it was a LOT of fun to play and sing.  We had a different vocalist lead each verse and had a few instrumental leads after the Choruses.
Our next song was the Paul Baloche/Brent Brown favorite, "Hosanna" (G).  This is an older song but has become one of our regulars for several years.
After our announcement time we had a 2-song set.  Rather than go from faster to slower, I reversed the order today and it created a nice transition from the prayer time after the announcements.   I shared for a minute about the Lord's prayer and the line that says "Hallowed be Thy Name" and we sang "Your Name" (A) by Paul Baloche.  From there we went into "Your Mighty Hand" (A), an original by our friend Shannon Lewis & David Dalton.   This is a more upbeat driving song so the switch of tempos was a great lift.
We began a new sermon series today entitled "Out of the Box" about evangelism.  One of the primary points of the sermon was our desire and willingness to share the gospel is tied to our love for Christ.  If we truly love Christ, we will share him "outside the box" which represents our church gatherings.
For our close we did an intimate arrangement of "How Deep the Father's Love" (D).
Personally, I really enjoyed the setlist this week.  Admittedly, it was an easier set of very familiar music.  Our congregation new the songs and was comfortable with them.  We went from intimate, hymn-like worship to original/locally written rock to country gospel.  Our congregation is quite diverse and this gives everyone a chance to sing something that resonates with them.
So how about you?  Would love to hear more about your services.  Just leave a comment below.
For the Kingdom,
Fred
Support Fred's Music

If you are blessed by this music, I would be so honored if you would consider becoming a part of my inner-circle of patron supporters! For as little as $5/month you can be a supporter of my music and help me to continue providing peaceful piano instrumental music for the world.
More Ways To Listen
Worship Interludes Podcast
iTunes: Subscribe in iTunes
Google Play Music: Subscribe in Google Play Music for Android