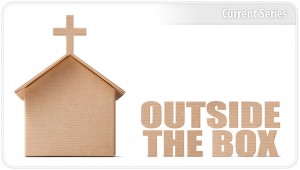 In my previous post I shared a recap of our worship services at SSCC and mentioned a little surprise that we did in the service.   As promised here's the details of this little creative moment that turned into a powerful prelude to our sermon.
We have been in a new series called "Out of the Box".  The church represents the box and we're discussing how to take God out of our church-box and out into the world.   We're blessed to have a wonderful, African American brother, Frazier Green, in our church.  He's got a fantastic voice that I didn't even know existed until he spontaneously led a chorus at one of our recent prayer nights.
Just before the sermon, as we finished our last song and the band was leaving the stage, we took all of our house lights down and Frazier began singing in his low, powerful, gospel voice.  He was stationed at the back of the sanctuary and postured to slowly begin walking up the center aisle towards our stage.
This little light of mine … I'm gonna let it shine
This little light of mine … I'm gonna let it shine
This little light of mine … I'm gonna let it shine
Let it shine, Let it shine, Let it shine.

Frazier began moving up the center aisle holding a lantern and singing with everything he had.  You could tell that people weren't sure where this was coming from.  As Frazier began to make his way up on the stage I began to accompany him on the piano.  By the time he was repeating the Chorus our bassist joined in and our vocalists began to return from backstage.  Frazier got everybody up on their feet, our house lights faded back in and within seconds, we were in a full-fledged gospel sing fest.   Our congregation was singing, swaying, and smiling.
When Frazier finally finished, we ended by holding this last chord and people just began to celebrate.   The next thing that happened was priceless and added amazing impact to this segment.   As the band kicked in the last note and began walking off the stage, Frazier put the lantern down on a table and picked up a large cardboard box in the shape of a church, and put the church-box on TOP of the light, covering it up.
Immediately, the tension was obvious.  One worshiper leaned over to our youth pastor and whispered "things just got real".   We displayed the antithesis of the message – that we say we're going to let our lights shine, yet, so often we only let it shine INSIDE the church.
It was a compelling creative moment to setup the sermon and people loved it.   I was blessed to see a plan in my mind come into reality and work the way we'd hoped.  Not only did we bring a different style and old, familiar chorus back in a fresh way and with a new voice, we gave a visual that imprinted the tension of our tendencies to keep our faith "inside the church" only.
I'd like to say we come up with a creative moment like this in every single service but we're not there yet.  This is the type of moment; however, that can make a regular service a memorable one.
What creative ideas have you used recently that help people stay engaged and connected in the flow of worship?
Support Fred's Music

If you are blessed by this music, I would be so honored if you would consider becoming a part of my inner-circle of patron supporters! For as little as $5/month you can be a supporter of my music and help me to continue providing peaceful piano instrumental music for the world.
More Ways To Listen
Worship Interludes Podcast
iTunes: Subscribe in iTunes
Google Play Music: Subscribe in Google Play Music for Android