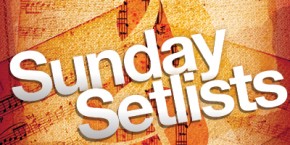 Hey Gang!
Hope everyone had a fantastic weekend.  I'm kicking off this week with my weekly recap of our worship service at St. Simons Community Church as a part of the weekly "Sunday Setlists" event hosted by TheWorshipCommunity.Com.
Our Sunday went pretty good.  I have to admit, it was one of those Sunday mornings where, for whatever reason, I really struggled to be excited and passionate.  I prayed, I played, I sang, but just felt somewhat apathetic.  I hate leading worship in that condition because I always fear it will carry over and seem inauthentic.  The truth is, we can't always rely on feelings.  I just felt tired and disinterested.  By the second service I felt much more like myself and seemed to be more connected.  I suppose that sometimes the "sacrifice of praise" is just that — a sacrifice.  We made it and offer it up even when it doesn't feel so authentic.
Now that I've confessed and made myself vulnerable for the entire world to see, let's talk about the music!
Our walk-in song was "Here For You" (B).
Our opening song was an oldie, but a goodie – "Your Grace is Enough" (G).  I have always loved this song and I heard it on the radio this past week and it helped me decide to put it back in the playlist.
After our announcements and welcome we had a 2-song set of worship starting with my arrangement of the hymn, "Blessed Assurance" (D) which moved into "10,000 Reasons" (G).  We've discussed the Key of that song before in previous posts – it's high, but singable for the guys on melody and creates some wonderful opportunities for the women to sing the lower harmonies.
Our closing song was another older one, "Center" (D).  I struggled to find a closing song that seemed to "fit" the message and finally quit striving for a perfect fit and looked for a song that would lead people to a response of dedication and surrender.  The other positive thing about "Center" is how versatile the arrangement can be.   You essentially have 3 segments, the Chorus, Verse, and Bridge, and you can easily go in and out of them without a fixed arrangement.  This is always helpful for us when we know we're at the end of a service where timing may be an issue.
That's about it for this week.  It was encouraging seeing a lot of people responding to God at the altar during our 11:00 AM service this week.  It made me want to just keep worshiping.
Be sure and checkout all the other setlists and reviews on TheWorshipCommunity.Com and share some comments below about your services.
For the Kingdom,
Fred
Support Fred's Music

If you are blessed by this music, I would be so honored if you would consider becoming a part of my inner-circle of patron supporters! For as little as $5/month you can be a supporter of my music and help me to continue providing peaceful piano instrumental music for the world.
More Ways To Listen
Worship Interludes Podcast
iTunes: Subscribe in iTunes
Google Play Music: Subscribe in Google Play Music for Android