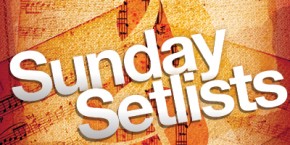 Hey Gang,
I've spent the past 3-1/2 days with about 130 of our men from SSCC at our first men's retreat.  It was an amazing time.  I wasn't sure how a tent full of men would respond in worship.  I can say that they responded powerfully and I'm reminded of what an amazing sound it is to hear men lifting their voices in praise.
As the last official session of our church's "Iron Man Retreat" we asked all the men to wake up early Sunday morning, pack up, and head to our church for both services.  They filled the center rows and helped lead our congregation with enthusiastic praise.
We chose to have a smaller, acoustic-driven band for the retreat so we carried that over to the main service with a few additions.  Our praise team was all-men yesterday, including myself on keys/vocals, Russ Hutto on acoustic guitar/vocals, David Dantzler on electric guitar/vocals, Doug Dawson on drums, and Gary Share on bass.   We didn't have bass/drums on the retreat but used a djembe and hand percussion instead.
We also carried over songs from the retreat.  Our walk-in was the Crowder arrangement of "Because He Lives" (A) and Harry Jones joined us on harmonica.  Then we sang "Our God" (G) which was one of those songs the men really sing out on.
Daniel Bashta has a song, "Praise the Invisible", featured over at TheWorshipCommunity.Com and we used that song throughout the entire weekend as an anthem and sung it again in our Sunday service.   We did that in the key of G which was singable for the men.
To close the worship service we sang "10,000 Reasons" (E) and during ministry time also used "Amazing Grace/My Chains Are Gone" (E).
It was an amazing time and although the weekend left us pretty tired, we were recharged spiritually.
Read about other worship services in the "Sunday Setlists" blog and feel free to leave your own comments below about our service or your own services.
For the Kingdom,
Fred
Support Fred's Music

If you are blessed by this music, I would be so honored if you would consider becoming a part of my inner-circle of patron supporters! For as little as $5/month you can be a supporter of my music and help me to continue providing peaceful piano instrumental music for the world.
More Ways To Listen
Worship Interludes Podcast
iTunes: Subscribe in iTunes
Google Play Music: Subscribe in Google Play Music for Android