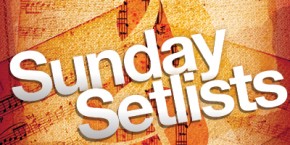 It's Monday morning and that means it's time to post a recap of our songs from yesterday's worship services.  Each week I try to post a recap of the worship service as a part of the "Sunday Setlists" event hosted by TheWorshipCommunity.Com.  Check it out and view the service recaps of other churches as well.
Yesterday was a great day for us at SSCC.  I was able to do something that I've grown to love more and more in backing up a bit and allowing someone else to lead.  Christine Vales is an established worship leader, artist, and songwriter in our congregation who I've been wanting to get into our rotation as one of our primary worship leaders for quite some time.   She'd released a new album a couple of months ago and her schedule has finally settled down a bit to get involved with the music at our church.
My philosophy in introducing new worship leaders to our congregation is to co-lead with them a few times before giving them an entire service.  I believe it's an easier way to help the congregation make a relational connection.  The one thing that didn't happen yesterday that I regret was a formal introduction.  Thankfully, because of Christine's involvement in our prayer ministry and other women's ministries I think plenty of people knew her.
We opened with Christine's arrangement of "Famous One" (G).  Then we sang one of my favorites, "Alive Again" (Bb) which was led by one of our vocalists, Todd Hendrix.
Our pastor presented our announcements and did a wonderful job connecting our financial giving as an act of worship.  We don't take up weekly offerings; rather, we have boxes located in the church for people to place their tithes and offerings.  As a result, it's easy to sometimes let weeks pass without mentioning this aspect of worship.
After announcements we repeated last week's song, "Praise the Invisible" (G) by Daniel Bashta.  We did this song the weekend before at our men's retreat and several of the men were glad to hear it again a  week later.  This flowed into the Jesus Culture arrangement of "Oh Lord, You're Beautiful" (G) which was led by Christine.
Our closing song was the Tomlin arrangement of "Take My Life/Here Am I" (G) which was also led by Christine.
One thing that stood out was the number of compliments about the music.  I think several factors contributed to the setlist and how well it connected with our congregation:
1)  including a couple of older songs (see my post on WHY you should see older songs)
2) lower keys that are more singable for the congregation
3) a slower, more intentional pace in transitions during the slower worship songs
I loved the flow between "Praise the Invisible" and "Oh Lord, You're Beautiful".  Connecting a brand new song to a classic older chorus was powerful.
So how was your Sunday?  I'd love to hear about any creative elements, songs, or topics used in your service.
Just leave a comment below!
Support Fred's Music

If you are blessed by this music, I would be so honored if you would consider becoming a part of my inner-circle of patron supporters! For as little as $5/month you can be a supporter of my music and help me to continue providing peaceful piano instrumental music for the world.
More Ways To Listen
Worship Interludes Podcast
iTunes: Subscribe in iTunes
Google Play Music: Subscribe in Google Play Music for Android