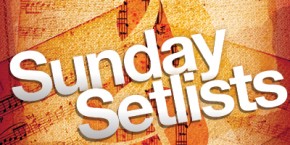 Hey gang,
Each week I try to post a recap of our worship services and the songs we sing at SSCC.  My posting is part of a bigger posting done by worshipers all over the world in an event called "Sunday Setlists" hosted by TheWorshipCommunity.Com.
Today was a good day.  I went into this morning's services with a big of apprehension because our Tuesday evening rehearsal was unusually rough.  Despite having some fantastic musicians and vocalists we struggled to find our parts and rhythms.  One song in particular kept presenting tempo problems for us and we struggled to stay on our click.   We left Tuesday night wondering how things would go and with a promise of practicing at home  Everyone obviously did their homework because our pre-service rehearsal went smoothly and we didn't make changes to the setlist.
Another concern that was discussed was having too much music that wasn't familiar to the congregation.  This was a valid concern and something I wrestled with.  We've been in a long season where the majority of our music has been familiar so I've been wanting to introduce some newer material and this was one of those Sundays we went for it.
Our walk-in was a fun, bluesy shuffle called "Praise the Name of Jesus" (G) that a friend of mine wrote and recorded more than a decade ago.  Kimbo has the perfect voice for this and led it well.  Next we sang something we're extremely familiar with, "Everlasting God" (A).  From there we transitioned to "Forever Reign" (A) led by Russ Hutto.
After brief announcements and some vision casting about our upcoming event, Refuge, we did a special called "I Will Trust" (Am) from Morningstar.  It's a powerful song and Beth did a great job leading this.  (this is the song and singer I mentioned in last week's post about empathy)
Our closer was a song I've fallen in love with called "Holy Spirit" (G) by Bryan and Katie Torwalt.  It was a sweet time and the band pulled it together quite well.
What was one of your favorite moments from your worship service? Share it with me and feel free to share your entire setlist over at TheWorshipCommunity.Com.
Support Fred's Music

If you are blessed by this music, I would be so honored if you would consider becoming a part of my inner-circle of patron supporters! For as little as $5/month you can be a supporter of my music and help me to continue providing peaceful piano instrumental music for the world.
More Ways To Listen
Worship Interludes Podcast
iTunes: Subscribe in iTunes
Google Play Music: Subscribe in Google Play Music for Android