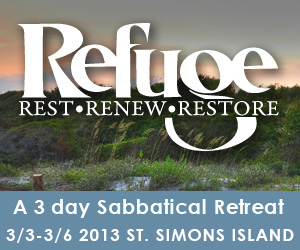 Hey gang,
Well it's just about time for "Refuge".   I've been looking forward to this event since our last one in the Fall of 2011.   For those who missed the updates, Refuge is a sabbatical retreat that I host, in partnership with TheWorshipCommunity.Com and St. Simons Community Church.  Although it's targeted to worship and creative arts leaders, Refuge is open to anyone who desires a rare opportunity to slow down, rest, and be encouraged spiritually.
This retreat isn't a practical "how-to" event.  This event is about taking care of our souls and spiritual well-being.
I love the bigger conferences that give us glimpses into new technology and experiences with huge corporate worship times led by well-known artists.  They empower us and equip us with tools and inspiration to lead more effectively.  At the same time, I feel that we can be overwhelmed with information and often never slow down enough to simply "be still and know".
This will be the 2nd meeting of Refuge.  Already, a tribe has formed and community has been established.   I can't wait to see some of this tribe again.  Reunions like this are precious.  Yes … I used the word "precious".  Wow.
We will have some amazing meals because I think that there is something special when we "break bread" together in fellowship and community.   Amazing meals should always be a hallmark of Refuge.
We will have some intimate times of worship because nothing is better than a bunch of creative people gathering and expressing their music and songs back to the Creator who gave them.
We will have some inspiring conversations with our keynote speakers.  Our sessions aren't keynote lectures.  Rather, they are thought provoking, heartfelt conversations in a group that is large enough to be diverse, yet intimate enough to be safe and vulnerable.
We will have extended times of rest and recreation because our bodies need time to be rejuvenated.  If the "flesh is weak", even when the spirit is willing, we can't lead effectively.
We will enjoy creation because God has blessed me to live on an amazingly beautiful island on the Atlantic ocean and few things can inspire us to see God like his beautiful creation.
We will celebrate community because we're intentional about keeping our group small and social.  Refuge is an opportunity to establish long term relationships with like-minded people who can walk the journey with you.
Perhaps this sounds like the exact thing you need.  If you'd like to join us, it's ALMOST too late but we still have room.  Otherwise, consider making this a part of your spiritual health in 2014.  Lord willing, we will continue to meet and draw near to God, as He promises to draw near to us.
Want to experience some glimpses of Refuge from a distance?  Follow our Facebook page and our #RefugeSSI hashtag.
For the Kingdom,
Fred
Support Fred's Music

If you are blessed by this music, I would be so honored if you would consider becoming a part of my inner-circle of patron supporters! For as little as $5/month you can be a supporter of my music and help me to continue providing peaceful piano instrumental music for the world.
More Ways To Listen
Worship Interludes Podcast
iTunes: Subscribe in iTunes
Google Play Music: Subscribe in Google Play Music for Android