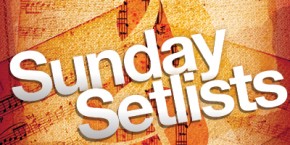 Hey Gang,
After investing myself fully into the Refuge retreat this past week, I'm behind on my blogging schedule.  I skipped over last week's worship recap so I will try to consolidate the past two Sundays into ONE recap post.  This recap is a part of the weekly "Sunday Setlists" event hosted by TheWorshipCommunity.Com.
Sunday, March 3
This was a special Sunday because my friend, Trent Smith, was a guest worship leader and violinist with us.  Trent lives in Paradise, CA and was here for the Refuge retreat.  He is an amazing violinist, songwriter, and worship leader.  Trent accompanied us with violin and led one of his original songs, "Glorious" which was an incredible tune.
Christine Vales is a talented artist and worship leader in our church who is just getting involved regularly with our praise team.  She will be one of our primary worship leaders so I've been co-leading with her off and on to help introduce her to the congregation and make sure her song repertoire overlaps ours enough to lead effectively.
The songs for March 3 included:
Beautiful One (D)
All My Fountains (D)
Glorious (F#), by Trent Smith
Revelation Song (C)
Your Name (A)
Sunday, March 10
Fast forward to this past Sunday.  Last week was a long week (hosting Refuge is not quite the same as ATTENDING Refuge!) and we had a Thursday evening rehearsal instead of our regular Tuesday one.  I wanted to have a smaller team that we could easily manage and do some familiar music.
Our setlist included:
Hosanna (Hillsong version, E)
The Lord Reigns (Gateway version – C)
This Is My Father's World (Amy Grant Version, led by Christine, Ab)
Holy Spirit (Brian Torwalt version, G)
Praise the Invisible (G)
Now we're a few weeks out to Easter so I'm planning for services in between but fixing my gaze on our Easter services primarily.
How have the past 2 weeks been for you?
Support Fred's Music

If you are blessed by this music, I would be so honored if you would consider becoming a part of my inner-circle of patron supporters! For as little as $5/month you can be a supporter of my music and help me to continue providing peaceful piano instrumental music for the world.
More Ways To Listen
Worship Interludes Podcast
iTunes: Subscribe in iTunes
Google Play Music: Subscribe in Google Play Music for Android