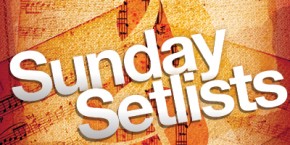 Hey gang,
Here's a quick recap of the setlist from this past Sunday at SSCC.  I'm posting our songs in participation with the "Sunday Setlists" event hosted by TheWorshipCommunity.Com each week.
We had a really fun Sunday and had lots of comments about the music.  I'm enjoying the ability to use some other musicians and singers during these first few months of summer that typically would be serving back in the children's areas.  They are taking a few weeks off before vamping into their summer series so it's great to have new faces.
We opened with a classic, "Come Now is the Time to Worship" (D).  It's a great song to use as an "on ramp" to help people transition from the busyness of getting to church to the setting our hearts towards God.
Next we sang "Our God" (G) which just doesn't seem to get old to me.
After announcements I took a moment to setup the next song, "Home" by Phillip Phillips.  I explained that this wasn't really a worship song but the message of the Kingdom was clear in the lyrics.  We are not alone and don't have to face fears alone.  We have One who is with us and wants to make our hearts His home.
I produced a click track that included some of the additional elements from this song like the accordion and glockenspiel.  I also played accordion live which was a ton of fun.  I added trumpet and trombone as well to play the "oh oh  oh" parts.  One of our guitarist/vocalists, David Dantzler, led the song and did an amazing job.  The band stayed on the click and the congregation really got into the song.
From there we went into "How Great is Our God" (G) and "How Great Thou Art".  It was a classic service of blending old choruses, hymns, newer choruses, and even a special song from pop culture that still brought the message of the Gospel.
Our final song was a special led by Kim Dixon Eden (she just got married and I've got to get used to using her new last name!) by Ginny Owens, "If You Want Me To".  It was a special time of response.
Overall, great Sunday.  I diversified the vocal leadership throughout the service and really wasn't the stand out leader on any particular song.  It was a true team effort.
How was your Sunday?
Support Fred's Music

If you are blessed by this music, I would be so honored if you would consider becoming a part of my inner-circle of patron supporters! For as little as $5/month you can be a supporter of my music and help me to continue providing peaceful piano instrumental music for the world.
More Ways To Listen
Worship Interludes Podcast
iTunes: Subscribe in iTunes
Google Play Music: Subscribe in Google Play Music for Android