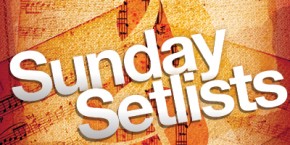 Happy New Year!
Yesterday (January 5, 2014) was our first Sunday of the new year.   We had a guest worship leader at SSCC, Ms. Hurley McGahon (aka Hurley Christin).  Hurley is a wonderful young lady who grew up in our church and had since moved off to study and minister at IHOP in Kansas City.  She's still in Kansas City leading worship at a church.  She was home for the holidays and was gracious to share her gifts with us for Sunday, Dec 29 and Jan 5.
I enjoyed sitting in as a musician and vocalist.  I really enjoy those times where I'm not the leader but can yield to someone else's leadership.  Hurley led us through a few familiar songs and some new.
Our walk-in song was "Happy Day".  We then opened with "Our God".  It was the first Sunday of the year and because of that we had an extended time of announcements.  There's a LOT kicking off at SSCC and we needed some time to cover it.   The 2nd set of music included "Oceans" and a song called "Great Are You Lord" by All Sons & Daughters that I really came to love.
We had a guest speaker as well, who had a challenging message about abiding in God.  Hurley wrapped up with one of her original songs.
I'm back in the driver's seat this week so have to hit the ground running today.  We have another guest speaker next week who requested some of his favorite songs — so here we go!  Looking forward to it.
I'm posting this recap as a part of the weekly "Sunday Setlists" event hosted by TheWorshipCommunity.Com.  You can view other church service recaps there.
How about your services?  Anything special or memorable?  Anything distracting?  Sound off … click to comment below!
Support Fred's Music

If you are blessed by this music, I would be so honored if you would consider becoming a part of my inner-circle of patron supporters! For as little as $5/month you can be a supporter of my music and help me to continue providing peaceful piano instrumental music for the world.
More Ways To Listen
Worship Interludes Podcast
iTunes: Subscribe in iTunes
Google Play Music: Subscribe in Google Play Music for Android