Hello Friends,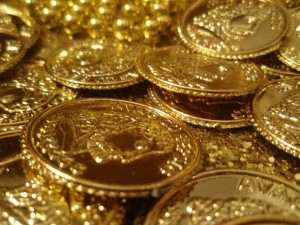 I thought I'd come up with a title that is sure to get some reaction .. "can God make me rich"?
First, let me start out by saying a few of things:
1.  I realize that "wealth" and "prosperity" are extremely controversial.
2.  I realize that there is extreme poverty all around the world, including here in America, and that it falls on the righteous and the unrighteous.
3.  I realize that "riches and wealth" are subjective.  To some folks, we are quite rich.  To others, we're poor.
4.  I realize that if you do find yourself with wealth or an abundance of money and possessions, you have a responsibility to be generous and help others.
5.  I realize that being "rich" can include (and does include) much more than money or material things.
Now that I've had my disclaimer I'm hoping readers won't think I have my head stuck in the sand of a warped prosperity gospel that is taken out of context and abused.  I just want to journal my thoughts on some verses I've been reading.
Which brings me to the real question I'd like to pose in this blog:
"How would my finances be impacted if I searched for wisdom and discretion and made my financial choices based on the leading of God"?
Clearly, that title wouldn't attract many readers.  But that's the real question here.
This morning I read Proverbs 8.  The subtitle of this proverb is "The Blessings of Wisdom".  Throughout this proverb, Wisdom is personified as a person.  Wisdom even claims to have been present at the time of creation, and before.  This suggests to me that Wisdom is the Holy Spirit.  So when you read "Wisdom" change that to "the Holy Spirit" or "the Spirit of God".   This Spirit is available to all Christians – we receive the Spirit of God at our salvation.  The Holy Spirit is often referred to as the "spirit of wisdom".  [side note:  all my "quotes" are for the appreciation of my friend Travis]
Take a look at Proverbs 8:17-18:
17 I love those who love me, and those who seek me diligently find me.
18 Riches and honor are with me, enduring wealth and righteousness.
In studying about the blessings of God (please don't get me started on that ridiculous bunch of nonsense that circulated the internet a few months ago about how Christians shouldn't use that word) I have been very careful to dig deeper into the meanings of words like "riches" and "wealth".  I can tell you that in many cases it's not necessarily referring to money.  However, as I dug into these words for this verse in the Hebrew, it's referring to literal riches – wealth, possessions, more-than-enough.  (for my friends who prefer "sick and poor" over "health and wealth" and are getting anxious, go back to my disclaimer #4).
The Bible says we shouldn't worry about trying to get rich – there's a lot of trouble with that.  But we also see a lot of Scripture that would suggest that He is able and willing to bless us financially, for a number of reasons.  Some people are even given a special "gift of generosity" which can't be used without having resources to be generous with.
In the context of this passage, Wisdom is saying that riches and wealth are with him.  I quoted verse 17 before because it suggests that wisdom isn't found without seeking it diligently.
So back to my original question … "can God make me rich"?
People will debate God's plan for wealth until He returns, but I believe that if a Christian searches for wisdom and prayerfully, carefully makes decisions about their jobs, careers, investments, giving, spending, and saving … they would see a significant impact on their revenue.
That's where I am!
For the Kingdom,
Fred
(image from "Riches in Christ – God, Money, & Me")
Support Fred's Music

If you are blessed by this music, I would be so honored if you would consider becoming a part of my inner-circle of patron supporters! For as little as $5/month you can be a supporter of my music and help me to continue providing peaceful piano instrumental music for the world.
More Ways To Listen
Worship Interludes Podcast
iTunes: Subscribe in iTunes
Google Play Music: Subscribe in Google Play Music for Android