Hey Gang,
Hard to believe it's November already.  I am excited to announce some brand new music and the re-release of some older music.  What better way than to dust off the ole' blog and post about it.
"QuietTimes" Series Re-Release
Many years ago I recorded two free-flowing, instrumental albums.  "QuietTimes" Keyboard Instrumental and "QuietTimes" Volume 2 Keyboard/Sax Instrumental.   Both of these were created with the thought that they would provide continuous instrumental music that was perfect for praying, meditating, relaxing, or during altar/ministry times in churches.   The first recording was released on cassette tape (remember those?) and the second album was on cassette and CD.   Both went out of print many years ago and I decided to re-release these in digital version.
So, checkout the newly designed "QuietTimes" series, now available on iTunes:
"Community Live – Volume 1" from SSCC
Over the past year I've been re-learning the art of mixing and producing and I'm pleased to announce the release of our church's first-ever CD, "Community Live, Volume 1".  This 4-song EP features various leaders and members of the St. Simons Community Church Praise Team where I have the honor and privilege of serving as the Worship Pastor.   This is also available on iTunes.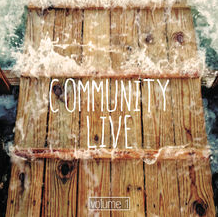 Songs include:
"You Never Let Go"
"Holy Spirit"
"Sanctuary"
"With All I Am"
These are some of the favorite songs we've been singing here in our congregation over the past few years.   Hopefully we will continue to release recordings of the music we're so blessed to celebrate at SSCC.
Well, I hope this update finds you well and that you're able to grab some of this music.   If you don't mind, consider leaving a review for each album on iTunes.   It's really easy to do and will help us out!
For the Kingdom,
Fred
Support Fred's Music

If you are blessed by this music, I would be so honored if you would consider becoming a part of my inner-circle of patron supporters! For as little as $5/month you can be a supporter of my music and help me to continue providing peaceful piano instrumental music for the world.
More Ways To Listen
Worship Interludes Podcast
iTunes: Subscribe in iTunes
Google Play Music: Subscribe in Google Play Music for Android