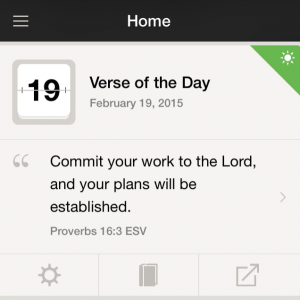 Today's "Verse of the Day" on the popular Bible/YouVersion app is Proverbs 16:3.   It's one of my all-time favorite proverbs.
"Commit your work to the Lord, and your plans will be established".
One of my favorite translations of this verse actually says "your plans will succeed".
Who doesn't want success?   Who really wants to waste time with futile efforts and failed plans?  Nobody that I know.
This verse rings true for me in so many ways:
– as a husband and father
– as a worship pastor and leader
– as an entrepreneur and business owner
– as an employer/boss
– as an employee
– and on and on and on …
The list could go on and on.   There are two principles in play here.   First, we have to commit our work to God.  Some translations use work, some use actions, some use works (plural) .. the NIV covers it all by translating as "commit whatever you do".
The second principle is that in doing the first, we will see success in our plans.   Why is this?  Because it says our thoughts will be established.
Thoughts are so incredibly powerful.  The direction that we think is the direction we tend to go.
In my life I've made so many decisions – big ones, like selling a business, hiring employees, or choosing an amazing woman to marry … and every day ones like choosing the right song for a worship service, buying a friend's coffee, or keeping my mouth quiet when I want to rant.   If I'm fully committed to the Lord, I can trust that He is also ordering my steps and my thoughts.
People often ask "how can I know that I'm doing what God wants"?   For me, I like to try and stay surrendered and committed to God.  When I'm in that place, I feel very confident that my thoughts and plans are from Him, and that gives me confidence to act because I know those plans will succeed.
What does succeed mean to God, though?  Well, I suppose that's a blog for another day!
My encouragement today is that you take some time to dedicate and commit your day, your ideas, your work, your wonderings, your decisions to the Lord.  Surrender them to Him.  Roll them over on Him.  Then, trust the thoughts in your heart and let them lead you into actions and plans that will lead to success.
For the Kingdom,
Fred
Support Fred's Music

If you are blessed by this music, I would be so honored if you would consider becoming a part of my inner-circle of patron supporters! For as little as $5/month you can be a supporter of my music and help me to continue providing peaceful piano instrumental music for the world.
More Ways To Listen
Worship Interludes Podcast
iTunes: Subscribe in iTunes
Google Play Music: Subscribe in Google Play Music for Android