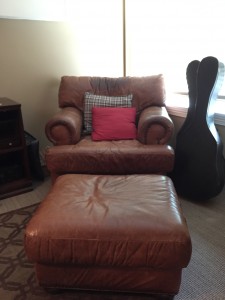 Hey Gang,
A few days ago I posted a blog about all the "noise, Noise, NOISE" in life.  In that blog I encouraged us to find a way to turn off the noise and find times of silence.
This morning I decided to follow my own advice.  Here's a rundown of the experience:
First let me explain that your experience may be different than mine.  I am expressing my journey through the lens of my Christian faith.   I realize there are people subscribed who enjoy my music but don't process any faith at all, or perhaps, a different faith.   Regardless, these exercises are still good for all.   Silence and reflection is so important in our modern age of noise and distraction.
I setup in my studio in a super comfy leather chair w/ ottoman. I didn't want to be distracted by the computer so I setup a short playlist of songs that help me get into an attitude of worship and used the Remote app on my phone to control it.
Yes – music.  Before I entered into my time of silence I wanted to prepare myself with a little music.  I closed my eyes and listened to two powerful songs:  "Jesus, We Love You" from Bethel Music and "The Lord's Prayer" featuring Andrea Bocelli.   I put my iPhone on silent and set an alarm for 20 minutes out … about 10 of which would be the music and 10 of which would be silence.
Once the music ended, the room got quiet very fast.  The sound of the air vent above my head roared.  More than that, the voices in my head started shouting.   I said to myself "it's OK, be quiet, be still".   It was the kind of soothing and coaxing you'd give a little baby who was startled or your dog who was trembling to go chase after something.
It's OK – just be still.
This is the thought that I focused on.   In addition, I would center on the thought that this was a good process and I would whisper (only in my mind) to the Lord that I was surrendered to Him.
It was a struggle.   One immediate voice that I heard was concern about a business idea.   Then I had thoughts about some family issues.  I heard some speculations that I know aren't true, so it reminded me that I couldn't trust those voices I was hearing right out of the gate.  I calmed my thoughts and got quiet again but this battle continued.   Perhaps the most frustrating thought of all was how I couldn't help but think how this experience would make a good blog post.  (for real – how's that for vulnerability).
I've been told countless times that the object is not to try and make something happen or hear something or do something — it's just to "be still".   Still, the production-driven nature in me wants to have something to take away from the experience and I fought that the entire time.
In the end, I'm happy to say that I did have a thought — a glorious thought — that brought refreshment and joy to my soul.   It was so simple, yet profound.
In my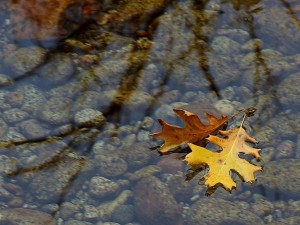 mind's eye, I saw a leaf drop into a flowing stream.   The current was moving at a noticeable, but leisurely pace.   Perhaps my walk earlier this morning where I noticed the water in the ditches flowing away into the marsh with the outgoing tide is the reason I saw that.   But then I had understanding:
The water does not need to speak to the leaf and tell it anything.  It does not need to tell the leaf where it's going or give it any instructions whatsoever.   The leaf simply needs to fall into the water and be taken away.
For me, I was the leaf and the water was God's purpose and plan for my life.  In my time of silence, I did not need to hear Him speak.  I did not need to hear direction or ideas.   I simply needed to surrender and fall into the water, trusting it would take me where it was supposed to.
That was kairos for me.  It released me from any requirement to hear something although I'd say what I saw spoke to me profoundly.
Shortly thereafter, I got a bit anxious about the time and fought looking at my phone to see how much time was left.  I wanted to win by making it through the session without worrying about the time .   It seemed like the time should have come and gone.  I finally caved and sure enough, I'd set the alarm incorrectly and I'd already gone well beyond the 20-minutes I'd established.
That's my experience.   I wonder if anyone else has tried taking some time away from the noise this week.   If you have, I'd love to hear about it.
Support Fred's Music

If you are blessed by this music, I would be so honored if you would consider becoming a part of my inner-circle of patron supporters! For as little as $5/month you can be a supporter of my music and help me to continue providing peaceful piano instrumental music for the world.
More Ways To Listen
Worship Interludes Podcast
iTunes: Subscribe in iTunes
Google Play Music: Subscribe in Google Play Music for Android