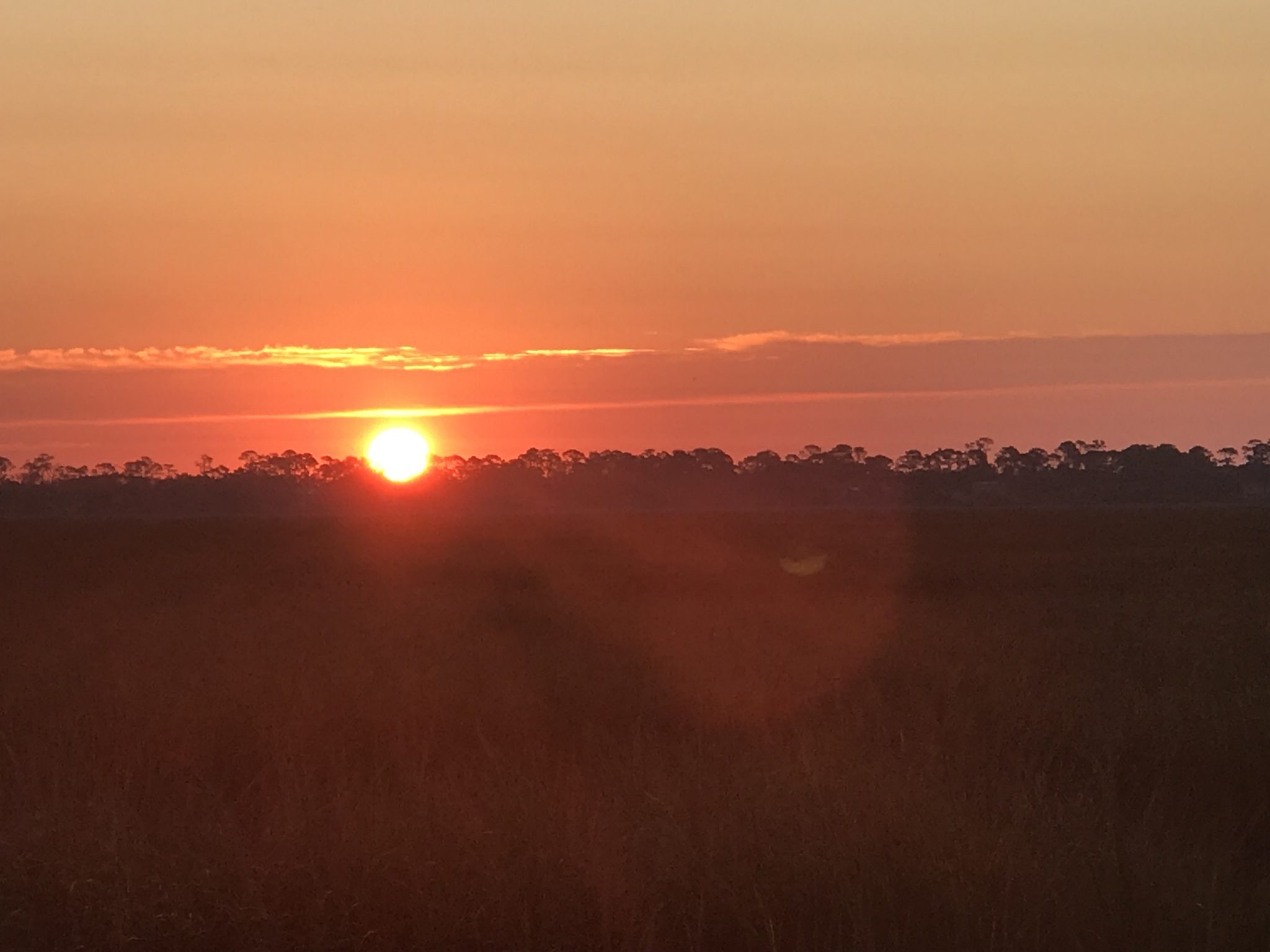 "Peaceful Moments" – Piano Instrumental Improvisation for Soaking Worship, Prayer Music, Meditation, and Relaxation
I usually record the first interlude of the week every Tuesday morning. This Tuesday started out at 5:00 AM when my alarm went off so that I could attend my Tuesday morning outdoor workout with a group of men. It was a crisp 48 degrees and I had a great workout. On the way back home I grabbed a cup of coffee and parked down at Village Creek Landing, one of my favorite spots on the island to have my own personal quiet time. During my time of prayer and worship I watched the sun rise over the marsh. The featured image on today's episode was taken from my little spot there at the landing.
I normally don't drive my kids to school on Tuesday mornings so by the time I got home from the school run and took my walk with Sadie, it was already past 9:00 AM. I have so much work to do. I'm in the e-commerce business and it's crunch time. Stopping, slowing down, and creating an interlude at this point was going to be a struggle. They come much easier when it's the first thing I do in the mornings.
As I began to play, I felt myself wanting to rush. As I would play each chord, I kept saying to myself internally, "Fred, just slow down. Breathe. Relax". The combination of a couple of huge cups of coffee and my exhaustive list of work that needs to be done were driving my soul in a frenzy. It was all I could do to hit the brakes.
But I tapped the brakes of my soul and slowly began to calm down. I realized that I could rush through this interlude, or I could slow down and be intentional. Soak in every moment. Let the tones from the piano resonate and fill the spaces.
As I finished, I felt more calm. Relaxed. I felt more at peace.
That's what these interludes are about. They are intended to give the listener (and the performer!) a space to be still, slow down, pray, listen, and relax. These interludes are an escape from the fast-paced, hectic schedules of life.
I hope that you enjoy listening today. I'm grateful for your support.
Listen to Fred McKinnon's "Peaceful Moments" Piano Interlude
Podcast: Play in new window | Embed
Subscribe: Apple Podcasts | Android | Email | Google Podcasts | Stitcher | TuneIn | RSS | More
Watch the video of Fred McKinnon's "Peaceful Moments" Piano Interlude
Support Fred's Music
If you are blessed by this music, I would be so honored if you would consider becoming a part of my inner-circle of patron supporters! For as little as $5/month you can be a supporter of my music and help me to continue providing peaceful piano instrumental music for the world.

Become a Patron!
More Ways To Listen
1-Listen on YouTube
Worship Interludes Podcast
iTunes:
Subscribe in iTunes
Google Play Music:
Subscribe in Google Play Music for Android