Hey Ya'll,
I'm writing this from my hotel room in Dallas, TX … out on a business trip visiting some clients (and prospective clients) for our hosting company ….
My Dad and older brothers try to go fishing together every year … it's sort of a "father sons" thing, and it's always a blast. This year we had an unfortunate issue where the younger of my older brothers, Rob, couldn't get off work (sorry, bro!) … so it was just going to be my Dad and my oldest brother, Billy. Since it wasn't just "Father and Sons" anymore, we invited some other folks – my cousin John (the mostest awesome video/TV guy on the planet) and my pastor, Dan Harris, of Christian Renewal Church, St. Simons.
Allz I can say is "fish on" … we killed them. We chartered a boat off of Tybee Island, GA and went bottom fishing. We almost didn't make it out – the seas were very rough (4-6 ft) but things settled down after a bit. We limited out on snapper – red snapper and vermillion (we call'em "B-Liners") and caught some shark and a big grouper as well.
Towards the end of the day, we fished with some "live bait" on the bottom for the "big ones" – I was pumped to be the grand price winner – I landed a big 31-pound red snapper (see below) … it was one of the biggest the captain of the charter boat had ever seen!
So, here is my fishing post and pictures – nobody can have a catch that great and not brag a bit, LOL!
For the Kingdom,
Fred
The 3 Big Ones: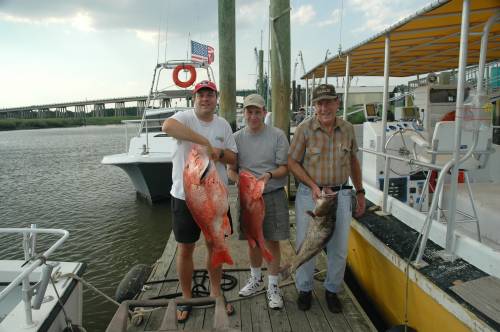 The Catch – 160+ pounds altogether: