Hey Ya'll –
Long time no blog … mainly, due to the fact that I spent all of last week on VACATION! Joy and I left the kids at my parents (Me-Ma and Pa-Pa) in McRae, GA and headed up to Myrtle Beach, SC for 6 whole days of R&R … we missed the kids but sure did enjoy the peace and quiet!
While on vacation, I woke up at 4:00 AM with an old vision racing through my mind – a dream I've had for a few years – to produce an outdoor worship concert where I'd lead worship with a team of great musicians and singers. I've thought about it off and on for a couple of years but never moved on it … until this day on vacation – and I felt the Lord say "It's time".
So now, "Worship Under The Stars" has been formed and everything seems to be falling into place. Keep updated here on the blog for more info as it progresses.
The first hurdle to jump was getting the venue. My first choice was to use the big amphitheater on Jekyll Island – what better place to have a worship concert!? I started praying for God to lead me to the right people and to have favor with them … and I felt impressed to look at the Jekyll Island Authority's webpage … to my surprise, one of the contacts was Kevin Udell … the father of one of my handful of piano students. Moments later, Kevin walks in with his daughter. I mention it to him and he says "funny, we just had staff meeting and were talking about how we could use the amphiteater more, etc.". By the end of the next day, the venue is secured and the Jekyll Island Authority was so excited about the event that they pledged to help in any way necessary!
It's been a while since I've been over to the Jekyll Island Amphitheater … Valdosta State University usually uses the venue all summer long with broadway plays and theater stuff produced by their drama/theater department. This is the first summer in ages that VSU hasn't used the venue. It can seat well over 1,000 people and it has a huge stage. The entrance takes you down a wooded path and into the theater – it's out in the middle of the woods on a beautiful coastal island off the beach. I took a drive to check it out yesterday and took a few pics … see below.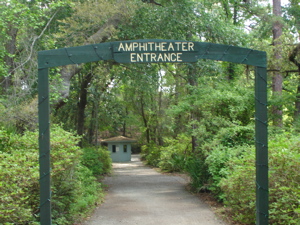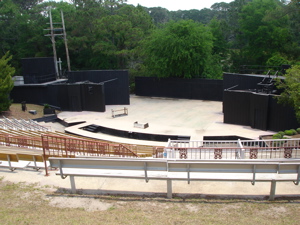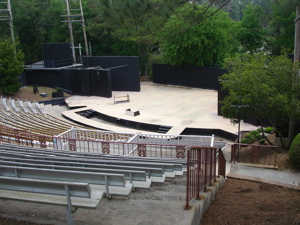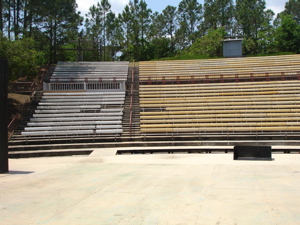 At any case, things are shaping up – I'm forming the band, singers, and the support teams. I hope to secure a lighting crew, video crew, and sound engineers to produce a full audio CD and video DVD of the evening. I'm still waiting on confirmation from the Jekyll Island authority, but the initial date is either Friday or Saturday, Sept 9, 10.
Other than sharing the vision with you, all I can ask for now is PRAYER. LOTS OF PRAYER. Pray for wisdom and guidance and for the rest of the "puzzle pieces" to come together. Pray for the teams we'll be forming – marketing, advertising, church-relations, media, etc. Pray for perfect weather before, during, and after the event (yeah, it's the start of hurricane season!).
Until I have more info ….
For the Kingdom,
Fred