Worship Interludes
The "Worship Interludes Podcast" started as a way for me to share some of my personal times of musical worship during my personal devotional times.   They are rarely rehearsed and almost always a spontaneous, free-flowing response to my thoughts, prayers, or reflections on Scripture and life.  
My desire in producting this podcast was that people would be able to subscribe from their computers, phones, tablets, and devices and take this "quiet time" music with them wherever they went.   The peaceful melodies would be available for times of prayer, meditation, "soaking worship", and relaxation.   It could provide interludes to play as background music for studying or resting.  You can listen in your car, on the beach, during a walk or jog, or any other place you'd like to just slow down, breathe, and listen.
As of April, 2018, the podcast has been downloaded over 90,000 times in over 156 countries and growing daily.  
You can always listen to the podcast on the website (below) but the best way to enjoy the podcast is by subscribing on your computer and devices so that you always have the most updated episodes wherever you go.
Subscribe in iTunes (Mac/PC/iOS)
Subscribe in Google Play Music (Android Users)
Listen via TuneIn Player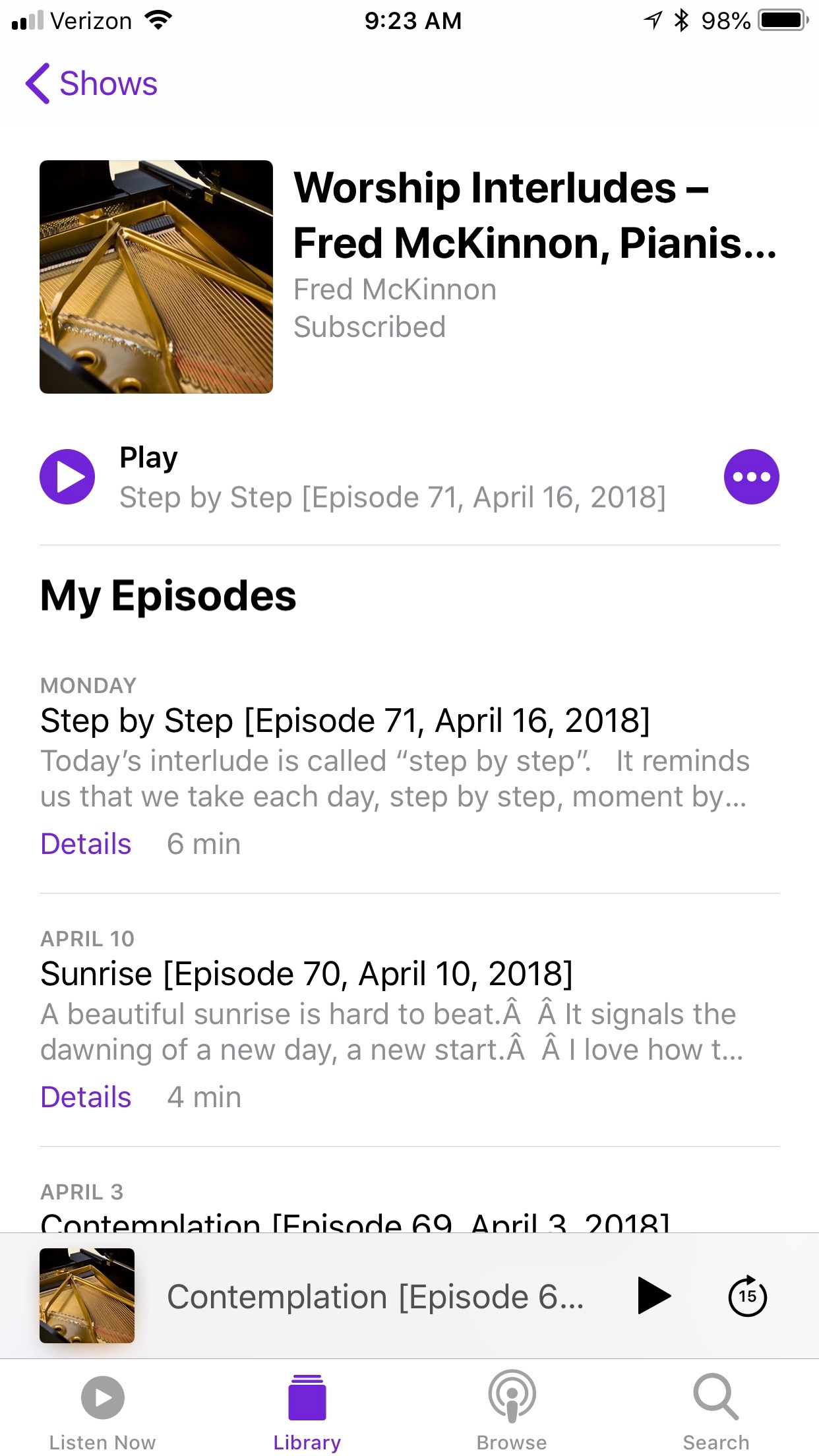 Web Episodes
October 1, 2018
Fred McKinnon
Faith, Music, Worship Interludes, Worship Leadership (Ministry)
4:57
0 Comments
Prayers at Dawn – Piano Interlude My morning prayers began well before dawn on this significant day.   This is the day that I close the book on eleven years of ministry at St. Simons Community Church.   Sunday, September 30th, 2018. Although my alarm was set for 6:30 AM, sleep eluded me and I found myself…
Podcast: Play in new window | Embed
Subscribe: Apple Podcasts | Android | Email | Google Podcasts | Stitcher | TuneIn | RSS | More
September 26, 2018
Fred McKinnon
Life and Family, Music, Worship Interludes
5:21
0 Comments
Seasons | Solo Piano Instrumental Last week I recorded an interlude called "Finish Strong".   It was inspired by conversations I was having with a friend who has a father in failing health.   Little did I realize that the title of that composition and the emotion I poured into it was more significant than I'd realized….
Podcast: Play in new window | Embed
Subscribe: Apple Podcasts | Android | Email | Google Podcasts | Stitcher | TuneIn | RSS | More
September 20, 2018
Fred McKinnon
Faith, Music, Worship Interludes
5:59
1 Comment
Finish Strong | Piano Instrumental Music As I was recording today's interlude my mind drifted to the idea of a legacy.   What legacy do I want to bring? Whether we're thinking of a project, a job, our marriage, parenting, or our entire life – my hope is to finish strong.   I can't help but think…
Podcast: Play in new window | Embed
Subscribe: Apple Podcasts | Android | Email | Google Podcasts | Stitcher | TuneIn | RSS | More
September 17, 2018
Fred McKinnon
Music, Worship Interludes
4:57
0 Comments
Prayers of Peace Today's piano instrumental is called "Prayers of Peace".  After celebrating our 100th Episode last week, I'm back in the studio and hoping to consistently release two interludes per week. This short, five minute interlude is perfect to calm down, quieten yourself, and offer up prayers.  As you pray, my hope is that…
Podcast: Play in new window | Embed
Subscribe: Apple Podcasts | Android | Email | Google Podcasts | Stitcher | TuneIn | RSS | More
September 12, 2018
Fred McKinnon
Music, Worship Interludes
1 Comment
Milestones – Worship Interludes Podcast's 100th Episode! This video was recorded live at St. Simons Community Church on St. Simons Island, GA. This piece, "Milestones" was recorded by Fred McKinnon, Pianist/Composer, as the 100th episode of his "Worship Interludes" piano instrumental podcast. Fred started the "Worship Interludes Podcast" in February 2017 to provide a soothing,…
Podcast: Play in new window | Embed
Subscribe: Apple Podcasts | Android | Email | Google Podcasts | Stitcher | TuneIn | RSS | More
September 6, 2018
Fred McKinnon
Music, Worship Interludes
4:58
0 Comments
Breathing In – Spiritual Breathing Hey everyone!  I'm finally getting back into my rhythm of life after taking a much needed vacation over the past week.   If you missed my special guest episode with Tim Oladeru last week, be sure to check it out.   Today is the end of our work week at the church…
Podcast: Play in new window | Embed
Subscribe: Apple Podcasts | Android | Email | Google Podcasts | Stitcher | TuneIn | RSS | More