Well, here we are … after much thought and consideration, I've decided to create my very own "Blog" … an acronym for "web log". Go figure. For those who know me personally – you know I've always got "something to say", to quote Teresa Heinz Kerry (ha!). About a year ago, I was in Dar es Salaam, Tanzania, and one of my dear friends, Pastor Robert Pooley of Coast Community Church in Gulf Breeze, Florida said "Fred, why don't you have a blog"? I said "a what?". That's when he began to tell me about this "blog phenomenon" on the internet. Ha – and to think that I knew about everything that was going on "online".
Recently, I've had lots on my heart and mind, and I've wanted to go back to "journaling" some of this stuff down. Some of it, obviously, will never be made public in the blog … but I think some of it may indeed be a blessing to others – so for what it's worth, here we go!
I'd love your input and response … and join together with me as we work together to become more like Christ Jesus, and build His Kingdom.
Also, take a look at the various links offered .. including our family photo gallery … ya know, a picture is worth 1,000 words, right?
For the Kingdom,
Fred F. McKinnon, President
Highest Praise Productions, Inc.
www.highestpraise.com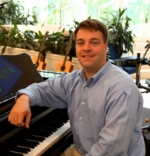 Support Fred's Music

If you are blessed by this music, I would be so honored if you would consider becoming a part of my inner-circle of patron supporters! For as little as $5/month you can be a supporter of my music and help me to continue providing peaceful piano instrumental music for the world.
More Ways To Listen
Worship Interludes Podcast
iTunes: Subscribe in iTunes
Google Play Music: Subscribe in Google Play Music for Android