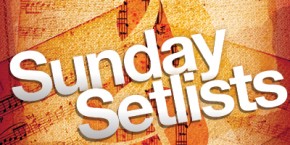 (Today's post is part of the "Sunday Setlists" event sponsored by TheWorshipCommunity.Com.  Checkout worship service recaps from other worship leaders!)
Hey Gang!
I'm crafting this recap at an early 5:19 AM on Monday.  I had no intentions of being up at 4:00 AM but that's how it happened today.
Yesterday was a great service at SSCC.  The flow of our service was a bit different than normal, as we didn't have our corporate worship through singing and music until the end of the service.
It was the final week of our "The Man Series".  This week's sermon title was "When A Man Loves a Woman".
What better song to kickoff the morning than Percy's "When A Man Loves A Woman"!  Since this is a secular song I thought it would be wise to break the ice.  This was our "walk-in" song so I just greeted everyone, explained that we were on our last week, the title, and pitched the song.  It was fun watching people laugh and smile as they casually enjoyed this all-familiar tune.  After we finished the song in the 9:00 AM service people really clapped and showed how much they enjoyed it.
We had one of our supported missionaries to East Asia with us so the first part of our service was dedicated to him.  After a well-produced video he shared about their work.
Just as David was about to get started with the sermon we interrupted him with our final spoof of the Bud Lite commercials, "Real Men of Genius".  This week was "Mr. Golf Tournament Quiet Sign Holder Upper".  The real humor in it was having PGA Pro Jonathan Byrd walk out on stage holding a big "Quiet" sign, accompanied my Mark Love, brother (and former caddy) of PGA Pro, Davis Love III.
Our time of corporate singing came during holy communion at the conclusion of the service.  Our communion set included:
"Remembrance" (Matt Maher/Matt Redman)
"In Christ Alone"
"He Ransomed Me" (original song I wrote last month, featured here)
"The Man Series" was a hit in our church.  I'll miss our cool man cave setup on the stage for sure, but maybe I'll get our Yamaha grand piano back out there.  I miss playing her!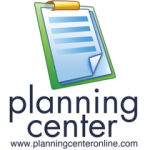 View a copy of our service details and flow @ PlanningCenterOnline.Com.
How did it go with your services this weekend?
Support Fred's Music

If you are blessed by this music, I would be so honored if you would consider becoming a part of my inner-circle of patron supporters! For as little as $5/month you can be a supporter of my music and help me to continue providing peaceful piano instrumental music for the world.
More Ways To Listen
Worship Interludes Podcast
iTunes: Subscribe in iTunes
Google Play Music: Subscribe in Google Play Music for Android