Hey Gang,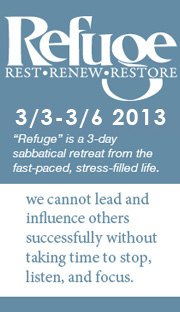 In case you haven't heard, I'm hosting a sabbatical retreat for worship leaders, creatives, artists, pastors, and well … anyone else who needs a time to rest, worship, and be encouraged in their spiritual walk.  The event is called "Refuge".
We had our first "Refuge" back in the Fall of 2011.   I had full intentions of doing it in the Fall of 2012 but there were too many conflicts on our calendar so we pushed it to the Spring of 2013.
The event starts with a casual meet and greet Sunday evening, March 3rd and ends around lunchtime on Wednesday, March 6th.  The material is targeted towards spiritual renewal for ministry gifts and creatives but anyone is more than welcome to attend.
There is still time to register and book your space, which is limited.  For full details, visit RefugeSSI.Com.  Also, as a follower of this blog, you can save $50.00 per person on registration by using this code:
CODE:  FREDMCK2013
($50 discount, good through 2/15/13)
Why Refuge?
I love conferences.  I love the learning and the networking.   I usually leave big conferences with a lot of ideas and I'm exhausted from all-day sessions and activities.
I created "Refuge" to fill a different need altogether.  It's not a "how-to" conference.  It's a spiritual retreat.  We only have 2 sessions per day.  That means you have plenty of time to pray, rest, and relax in the morning and afternoons.  It's a smaller, more intimate gathering where you can have real, quality relational time with the other attendees and our speakers.   The purpose is to bring you rest (spiritually, emotionally, and physically) and to encourage you spiritually and inspire you creatively.
The Location?
We host "Refuge" right here on our gorgeous island, St. Simons Island, GA.   If you've never been to St. Simons Island, just google it.  It's our paradise off the coast here in Southeast Georgia.   Our church, St. Simons Community Church, is the host to "Refuge" although we are known to take some excursions here and there.  We also treat you to some REALLY GOOD FOOD!
I hope that if you are a worship leader, pastor, creative artist, or a fellow Believer that you'll consider sharing this post with your friends, staff, and creative communities.
One of primary speakers this year is Gary Molander.  Gary (known as @garymo on Twitter) has been in full-time ministry staff for many years, serves in a volunteer capacity now, and owns a well-known media firm.  He gets it.  More importantly, he has a pastoral heart for artists.  He will be a real source of  inspiration.  The video below features an invitation from Gary.

I'd love to see you!  Come and join us!
Support Fred's Music

If you are blessed by this music, I would be so honored if you would consider becoming a part of my inner-circle of patron supporters! For as little as $5/month you can be a supporter of my music and help me to continue providing peaceful piano instrumental music for the world.
More Ways To Listen
Worship Interludes Podcast
iTunes: Subscribe in iTunes
Google Play Music: Subscribe in Google Play Music for Android