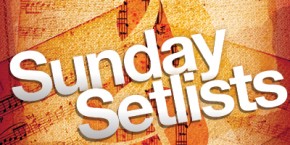 He is risen, and risen indeed!
I hope you had an amazing Easter celebration this past Sunday.  We had very large crowds at SSCC and I'm posting my recap of our music as a part of the weekly "Sunday Setlists" event hosted by TheWorshipCommunity.Com.
For me Easter Sunday is kind of like Christmas.  You know that you will probably need to sing some songs that are specific to that Sunday that you would not sing otherwise.  You also know that you'll have a lot of people show up who don't usually attend.
In my experience, Easter Sunday is the most-attended service of the year and in regards to praise and worship, one of the least engaged congregations of the year.  I found myself pushing through and trying my best to not let the hundreds upon hundreds of people who were just staring back at us affect me.  Instead, I kept the message of the songs at the forefront of my mind and would find those in our congregation who were fully engaged.  (yes, I realize you can't always tell where someone is by how they look, too!)
We kicked off our service about 10 minutes early with the following pre-service songs:
"Jesus is Alive" (C) – the infamous Ron Kenoly version
"Alive Again" (Bb) – the Matt Maher version
At the top of the hour we sang the Hillsong "My Redeemer Lives" (A)
After announcements, we had a 3-song set which included:
"Crown Him" (Majesty) – (A) – the Tomlin arrangement, which was very powerful
"Majesty" (A) – we went straight from the final Bridge of "Crown Him" into the "so exalt" Chorus of the old Jack Hayford "Majesty".  It was a powerful tag and I was blessed to see some people brighten up as they caught this older, familiar chorus."Because He Lives" (A) – the David Crowder version.  I LOVED this moment.
Our Easter service kicked off a new series called "Story" and the sermon was about our lives, our stories, and how Jesus came to give us a new story.  Our team made an amazing set that will be with us the next 5-6 weeks.  I wish I had pics of it!  At the conclusion of the sermon, we had a number of people who came forward and shared a 2-3 minute testimony of their story.   It was a powerful conclusion.
Our final song before dismissing was "Jesus Saves" (D) – Travis Cottrel version.
It's always a blessing to see a church full of people.  I hope and pray that many were touched by the Holy Spirit and will desire to return and seek Jesus throughout the rest of the year.
That's our recap.  How about yours?
Support Fred's Music

If you are blessed by this music, I would be so honored if you would consider becoming a part of my inner-circle of patron supporters! For as little as $5/month you can be a supporter of my music and help me to continue providing peaceful piano instrumental music for the world.
More Ways To Listen
Worship Interludes Podcast
iTunes: Subscribe in iTunes
Google Play Music: Subscribe in Google Play Music for Android